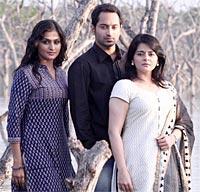 Paresh C Palicha feels Chappa Kurishu is watchable but could be better. Post YOUR reviews here!
How one reckless act of youthful overconfidence can turn a life topsy-turvy bringing heartache and wrecking havoc in the lives of loved ones about sums up cinematographer turned director Samir Thahir's debut film
Chappa Kurishu
. The basic idea of the story has been taken from the 2009 Korean film
Handphone
. But it is localised to good effect and mostly works well.
The film follows the life of two young people from the two extremes of society, bringing into sharp focus the disparity between the 'haves' and 'have nots', not just in the spaces they inhabit in the city, but also how their circumstances mould their personalities.
On the one end is Arjun (Fahadh Faasil), who is excavating riches by being in the booming construction business. It looks as if he comes from a rich background yet has gone independent just to prove a point. He wants to be successful at any price. He moves around in plush chauffer driven cars, uses state-of-the-art phones, and flirts with the telemarketing ladies. And, has a full-fledged affair with his subordinate Sonia (Ramya Nambeesan), even though he is preparing to be engaged to Ann (Roma).
At the other end there is Ansari (Vineeth Sreenivasan), who lives in a slum and works in a supermarket doing odd jobs that
include cleaning toilets, sweeping floors and being an errand boy for his supervisor. He is diminutive, almost a dwarf and looks like he's carrying the weight of the world on his shoulders. His lifestyle is frugal and unchanging. A major chunk of his earnings go home by old fashioned money order. Ansari has a soft corner for his co-worker Nafeesa (Nivedha), and she reciprocates his feelings.
The action picks up when Arjun loses one of his precious phones which falls into Ansari's hands. It seems at first that Ansari does not return it because of his communication problem. He is disturbed about keeping it and does not even know to operate it. Arjun is desperate to get it back because he had secretly recorded his love-making session with Sonia on it. Once Ansari realises Arjun's desperation, he feels a strange kind of power within him and orders Arjun to do things that he himself would not have dared to do, leading to a gory culmination.
It is to the credit of screenplay writers (R Unni and director Thahir) that they allow the characters to grow, but sometimes one feels that the emphasis on characterisation is at the expense of the plot.
Both lead actors are on an equal footing and carry their characters with ease. Of the three heroines, only Ramya Nambeesan has something substantial to contribute to the story.
All in all,
Chappa Kurishu
, Samir Thahir's debut as a director holds promise but leaves us with a feeling that it could have been better.
Rediff Rating
: