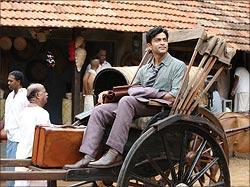 Paresh C Palicha says Celluloid gives life to J C Daniel who is also known as 'Father of Malayalam Cinema'.
We as a society have little regard for our artistic heritage, or respect for the pioneers in this field. We hardly know anything about them nor do we acknowledge their contributions. It was Martin Scorsese, the Hollywood director, who took the initiative to restore the prints of Satyajit Ray's films and digitise them.
If a known master gets this treatment, imagine the plight of lesser known people who still gave their heart and soul to Indian cinema.
J C Daniel was one such pioneer who made and released the first silent film in Kerala in 1930. He led an anonymous life after that till one zealous journalist rediscovered him after decades and brought his story to the world.
The bureaucracy and the people in power took a few more decades to endorse Daniel's contribution and recognise him as the 'Father of Malayalam Cinema'.
Veteran director Kamal tells J C Daniel's life story in Celluloid. The film is based on Nashta Naayika, a book (written by Vinu Abraham) based on the life of Rosy, the leading lady of Daniel's film Vigathakumaran, inspired by Charlie Chaplin's The Kid.
The screenplay of Celluloid, by director Kamal himself, uses a non-linear narrative technique to tell the story of a young man smitten by the new technology of cinema. He goes to Madras and Bombay to learn from the pioneers there.
Daniel (Prithviraj) wanted to be the first to use this technology, still in a nascent stage, in his home state. He writes a social drama. At this time women did not appear on the stage. Rosamma (Chandni), a girl Daniel had seen in a church play, was selected to be the leading lady Sarojini, an upper caste girl. Rosamma herself was from a low caste.
Daniel tries to abolish the caste system in his film unit. He treats Rosamma with the respect that a heroine deserves and rechristened her Rosy, giving her the confidence to play a Nair girl. His wife Janet (Mamta Mohandas) even shares her ornaments with Rosy.
Daniel's progressive ideas fall apart when upper caste guests protest violently at the first screening of his film and even chase Rosy away from the venue.
The plot goes back and forth as Sreenivasan, playing a journalist, pieces Daniel's and Rosy's story together until the year 2000 when the mystery of how the only print of Vigathakumaran was destroyed is solved.
Prithviraj is good and consistent as Daniel. Chandni gives a lifelike performance as Rosy with stars in her eyes.
In Celluloid Kamal shows what 'passion for cinema' really meant before it became a stylish thing to say.
Rediff Rating: