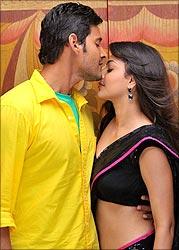 Radhika Rajamani feels that Telugu film Businessman can be an ebntertaining too much if you can avoid nitpicking.
After
Pokiri
, Puri Jagannadh and Mahesh Babu strike back with
Businessman
. In fact the combo roars and will do well at the box office too.
Director Puri Jagannadh has given Mahesh such powerful ammunition -- a fast-paced screenplay, punchy, crisp dialogues, some songs, a lissome Kajal and, of course, real pistols and guns -- that he is bound to taste victory in this huge action entertainer set against the backdrop of Mumbai. Mahesh Babu is present in almost every frame.
Surya (Mahesh) comes to Mumbai to rule the city and find his lady love. He gets down to business very fast. He sets up his own mafia gang (in a city where the mafia has been wiped out according to the Police Commissioner)  and a company Surya Exports and Imports and becomes a name to reckon.
He manages to woo Chitra (Kajal Agarwal), daughter of the said Police Commissioner (played by Nasser). Chitra initially falls in love with him but then retracts when she sees how violent he can be.
The film is in Puri's usual style -- slick and stylish. It's filled with loads of entertainment but without the comedians. That's quite a feat and a relief too.
The songs are composed by S S Thaman; they are not intrusive but just okay.
 The film is technically good. Sam K Naidu captures the city and the action well.
Editor
S R Sekhar has trimmed it to the correct length. He has a wafer-thin story but tries to makes it engrossing and watchable. There are some pithy dialogues, but it looks like they have been toned down with an eye on the censors.
The only problem with the film is that it justifies the mafia and violence. The whole film is built on that premise. Also, logic and plausibility have to be suspended to a large extent while watching this film.
The action sequences are gory at times. Mahesh has the licence to kill in the film; he takes the villain Subbaraju's gun and kills people and asks him to load it again!
There's no doubt that Puri Jagan has played to the gallery and kept the masses and Mahesh's image in mind while conceiving this film. It's just Mahesh all the way, despite the presence of other actors such as Prakash Raj, Nasser Sayaji Shinde, Subbaraju (who has a miniscule role), Brahmaji etc.
Mahesh wins the audience over in the first half with his comedy and captivates in the second half with his intense acting. He gets into the skin of the character and makes it credible. He is cool, calm, composed and acts effortlessly.
Kajal Agarwal hasn't got that much of a role but makes it up with her presence and good figure. She looks pretty and charming.
If you can watch
Businessman
for Mahesh Babu and its entertainment value without analysing it, it's a good Sankranthi treat, especially for Mahesh's fans!
Rediff Rating: