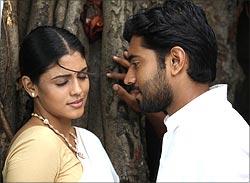 Paresh C Palicha says that Bhoopadathil Illatha Oridam tries to be a political satire with some old world charm but suffers from shoddy treatment.
Sreenivasan is a superstar in his own right with a strong following yet he is always there for newcomers as in
Bhoopadathil Illatha Oridam,
directed by newcomer Joe Chalissery.
Madhavankutty (Sreenivasan) is a school teacher in a small interior village where nothing much happens. The village is identity-less as the title suggests.
So, when a theft happens in a moneylender's shop, everyone around is baffled. It gives sleepless nights to the panchayat president (Nedumudi Venu) and the police officer in charge of the area (Innocent).
As they have no inkling about who the culprit may be, they device a plan to catch someone with a previous record.
Madhavankutty is the sole eye witness as the shop is visible from the place where he lives. A major part of the story is devoted to showing how Madhavankutty dodges the pressure tactics of the police and counters their arguments.
Parallel to this, we have the typical life and politics of a village: people discussing issues in the teashop, the ruling coalition bringing in modernisation by buying a coconut tree climbing machine that even women can use, the opposition taking out marches and walking out of panchayat meetings…
Suraj Venjaaramoodu as the opposition leader provides ample scope for comedy.
Most of the time, the humour is lowbrow and becomes repetitive as in Sreenivasan having a dominating wife in Rajasri.
There is also the romantic track with Navin Pauly and Iniya, which looks like an afterthought.
The director does not seem to have an idea how to bring all this to a convincing conclusion. So, the second half feels hastily put together. It goes without saying that this film depends on Sreenivasan and he does not disappoint.
From his entry into the movie when he is mistakenly believed to be attempting suicide by hanging from the ceiling fan when he was just trying to clean it, to the end, Sreenivasan is the focal point.
Others just seem to go around him. Nedumudi Venu and Innocent are the other veterans who get more on-screen time but they do not deserve such shoddily written lines.
Bhoopadathil Illatha Oridam
tries to be a political satire with some old world charm, but suffers from shoddy treatment.
Rediff Rating: