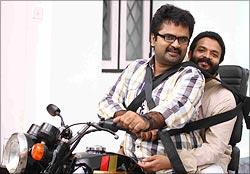 Paresh C Palicha feels Beautiful qualifies as a significant milestone in Malayalam cinema.
Once in a while there comes a film that not just surprises you but makes you jump out of your skin so to speak. Malayalam film
Beautiful
directed by V K Prakash is one such film, and what makes the surprise even more pleasant is the fact that it comes in the wake of
3 Kings
which could be considered the director's worst film to date.
Written by actor Anoop Menon (who is also one of the main leads in the film) it tells the story of a quadriplegic millionaire Stephen Louis (Jayasurya), who is bed-ridden but enjoys being carried around whenever possible instead of using the convenience of a wheelchair. He seems to have sorted out his life well and is enjoying it to the hilt with the limited resources he has. He writes a column in a women's magazine about modern day relationships (though he is never shown working on one), subscribing to the belief that the best person to talk about something objectively is the one deprived of it.
An unlikely friendship develops between Stephen and John (Anoop Menon), a talented singer that Stephen took a fancy to while dining in a restaurant. At first John is reluctant to be Stephen's private entertainer just for the sake of the money. But he is urged to do so by his music group who see it as helping John break into the big league of music some day. The two men think very differently: Stephen derives instantaneous happiness from John's talent, while John is bogged down by the lack of recognition and such things.
There is a third angle in the story in the form of Anjali (Meghna Raj), a home nurse-cum-maid. Both men are attracted to her. But Stephen, knowing that his longing for her will lead to a dead-end, silently takes up the role of cupid for his friend, happy to see some positive changes in him.
To writer Anoop Menon's credit, he avoids the stereotype of the character with severe disabilities stoically facing life externally, but cringing inside. Stephen's banter borders on the sexist occasionally and is not taken at face value because he is physically harmless, reminding us of Richard Dreyfuss in
Whose Life Is It Anyway?
(1981).
There were rumours that this film was inspired by the Hindi film
Guzaarish;
the film takes this head-on when Stephen calls
Guzaarish
depressing and tells his friend to turn off the TV midway through it. There are a couple of other film references, like the sad version of
Yeh Dosti
from
Sholay
playing on TV when John makes an effort to shake Stephen's deformed hand to mark the beginning of their unusual friendship. Or when the two friends are engrossed in the Padmarajan classic
Thoovanathumbikal
and a rain-drenched Anjali makes her entry.
The narrative thread may be very thin, but to the credit of the team behind the scenes everything is played out elaborately like in classical music without consciously hurrying the pace. And the team in front of the camera seems to enjoy this fact and takes the viewer with it. If there is one grouse, it is that the climax could have been better thought out.
On the whole, V K Prakash-directed
Beautiful
can be considered a significant milestone in the revival of Malayalam cinema.
Rediff Rating: