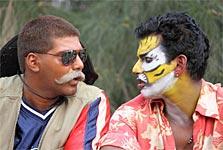 Pravithra Srinivasan says Avan Ivan delivers very little of the things it promises. Post YOUR reviews here!
After four ventures exploring very different genres, National Award winner director Bala comes with his fifth film: AGS Entertainment's
Avan Ivan
, where he's tried his hand at more or less full-length comedy. Naturally, the film has generated enormous hype: what with Vishal and Arya coming together for the first time, in an industry notorious for its king-size egos.
Truth be told, the production crew, as usual, does a neat job. Arthur A Wilson's cinematography is slick, especially when capturing the mountainous locales; Suresh Urs's editing serves the purpose, while T Muthuraj's art-work brings the Kamudhikottai Jameen alive. Yuvan's music itself fits the film, even if the background score doesn't elevate itself to brilliance.
The problem, you notice, is that
Avan Ivan
delivers very little of the things it promises. And it's amplified by the fact that it all begins so well.
This is the tale of two step-brothers who've always been at logger-heads despite sharing a family business, that is, petty thieving. In the mountainous village of Kamudhikkottai, lives Walter Vanangamudi (Vishal), a squint-eyed, effeminate character who can't even open safes without asking for a key (!). His one great passion is acting: he begins the film, in fact, with a fantastic kuthu number.
Then there's Kumbiduren Saami (Arya), so-named, he says, because he wants everyone to respect him the moment they hear his name. With his shorts and sidekick, he's supposed to be the cleverer sibling; able to carry off a con with a slickness denied his softer brother.
Both brothers are loud, brash and wear their hearts on their sleeve -- not a very bad thing.
The stumbling block arrives in the form of writer S Ramakrishnan's dialogues, which aren't that funny, and the crowd, which bursts into spontaneous laughter whenever each brother arrives, soon lapses into a puzzled silence.
Into the melee arrive Thenmozhi (Madhu Shalini) who falls for Kumbiduren Sami and the bouncy Constable Baby (Janani Iyer), who bats her eyelids at Walter --
why, exactly, you don't really know. These aren't the kind of men any self-respecting girl would fall for, especially their behaviour towards their respective women. You keep hoping that there's something in the romance, but there isn't.
There are a few heart-warming moments though: when you're shown that the step-brothers, despite being ready to claw at each other's throats almost every minute, do like each other. The common point of reference is the defunct Jameendar (G M Kumar), who is by far the best thing in the film. Whether he's laughing at Walter's antics, shaking with righteous anger at crimes or shivering with fear at the hands of the villain, the man rules.
Sadly, these moments are few and far between. You're never quite sure what and how Vishal and Arya's characters are supposed to be shaped. You never really feel any affinity towards them. You're not inclined to laugh at their antics, feel for their sorrows and their sudden shifts in character don't gel well at all. The leading men try very hard (Vishal, especially, with his squint), but ultimately can't carry off such flaky roles.
Then there's the villain who appears almost at the fag end, and by then, you already know what his end is going to be.
The much-vaunted Suriya cameo does what it's supposed to do: showcase Vishal's many acting talents. It ends up doing, you feel, the exact opposite.
By contrast, you empathize intensely with the hapless G M Kumar, the beedi-smoking Ambika, the wannabee DSP who's forever running after our heroes and even RK who appears as a shaggy haired man with murder in his heart.
Avan Ivan
does have, at its heart, a nice storyline with plenty of comic elements. But director Bala doesn't really capitalize on its strengths, and never pulls you into the story except in parts which is disappointing, as he is among today's trend-setters in Tamil cinema.
 Avan Ivan
may look good on paper but fails in execution.
Rediff Rating: