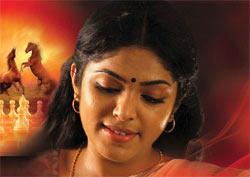 Malayalam film August Club Since 1969 could have been much better, writes Paresh C Palicha.

There is tendency among us to term a film bold if it revolves around a female character, it does really matter what the story is or what it is trying to convey.

August Club Since 1969 is one such effort directed by K B Venu based on Venalinte Kalaneekkangal, a short story by P Ananthapadmanabhan, son of legendary director P Padmarajan.

It tells the story of Savithri (Rima Kallingal), a vibrant young lady with interest in chess, writing poems in English and reading.

She visits August Club to satisfy her interests, she is a star here and is also encouraged by an elderly patron KPT Menon (Thilakan).

Savithri's family life is very different from her other pursuits, she has two little kids and her husband Nandan (Murali Gopy), a high flying executive in the private sector has very different set of interests and is always ready for a lively argument with his wife over them. The spark in their marriage seems to have died as the husband is busy earning and the wife is busy rearing kids.

Even the personalities of the couple are radically different -- while Savithri has refined tastes and uses the language appropriately, her husband believes in being open and blunt (at least with his wife in their bedroom as he once explains).

Savithri has a flirtatious female friend
who has views similar to her husband and who suggests to Savithri that she should send her kids to their grandparents during the vacation and spend some time alone with her husband.
The plan works well till point but Nandan is busy as usual and even has to go on an urgent business tour during this period, leaving Savithri alone.
As she spends her solitude in August Club, there enters a young man Shishir (Praveen Anidil) who shares her passion for chess and literature. Slowly, both of them become close and intimate.
The film, rich in subtext and distinctive characters, makes for an interesting watch. The technical intricacies of chess are used as a means to bond and literature as a tool for them to break the ice.
The characters too are defined in a similar manner with Nandan revealing his fascination for leading ladies in films during his younger days while his wife writes subliminal poems about passionate romance.
All this feels good and exciting initially but as we near the end it becomes predictable and overbearing. Thr climax is nothing short of a damp squib.
Rima as Savithri, is someone who has learnt to stifle her feelings and finding other ways to give them an outlet. Murali, on the other hand, has gone a bit overboard as an actor.
In the end, we can say
August Club Since 1969
isn't as great a film as it looked when it was first introduced.
Rediff Rating: