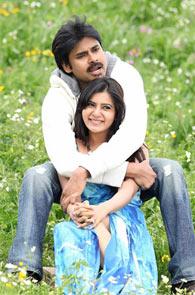 Attarintiki Daaredi is a typical family entertainer with nothing new to offer, writes Radhika Rajamani.

Director Trivikram Srinivas opts for the tried-and-tested path with Attarintiki Daaredi.

Trivikram's strongpoint is his writing. He has used sentiment and drama, infused with humour, to appeal to the family audience. As a final lure, he cast superstar Pawan Kalyan, who never fails to draw the audience into the theatres.

Trivikram ensured entertainment all right, but the film lacks novelty which leaves the audience watching a tale that is stylish but rather formulaic. The only novel element is Boman Irani, who makes his debut in Telugu films.

Raghunandan Nanda (Boman Irani) is a multi-crore businessman settled in Milan, Italy. Ever since his daughter Sunanda (Nadia Moidu) married Shekhar (Rao Ramesh) against her father's wishes, the two have been estranged.

Raghunandan, who is about to touch 80, he yearns to see his daughter. He charges his grandson Gautam Nanda (Pawan Kalyan) with the task of bringing his paternal aunt back.

Gautam reaches his aunt's place and masquerades as a driver, Siddhu. His aunt has two daughters, Prameela (Praneetha) and Sashi (Samantha). The whole film, as anyone can guess, revolves around whether Gautam will succeed in reconciling father and daughter and, of course, which pretty damsel will bewitch the hero.

The first half is a fun watch. It sets the base for the tale. Trivikram gives Pawan enough opportunities to display his histrionics. The dialogues enhance the superstar's image.

The second half, however, drags a bit -- particularly the Ahalya episode.

The infusion of humour and the presence of comedians like Brahmanandam, M S Narayana, Ali and Raghubabu do ensure laughter and the film has a high style quotient. Neither of these elements, however, plug the loopholes in the script.

Pawan Kalyan is the film's centre point. Attarintiki Daaredi is his show all the way. He stands out in every aspect -- be it dialogue delivery, body language, action or songs. His performance in the climax is the film's highlight.

Samantha is uber-cool and exudes confidence even though she has limited screen time and nothing much to do. Praneetha, too, looks glamorous.
Despite his limited screen time, Boman Irani makes his presence felt.
Kota Srinivasa Rao, Rao Ramesh, Brahmaji, Dr Bharat Reddy and the other comic actors perform as expected.
Technically, Attarintiki Daaredi is good.

Devisriprasad, whose music is in sync with the film, appears in a song as well.

Prasad Murella uses his camera with finesse.

Prawin Pudi does a decent edit on the film.

Final word: Attarintiki Daaredi is a stylish film, but it does not rise above being a routine family entertainer.

Rediff Rating: