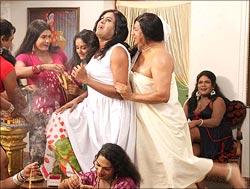 Paresh C Palicha says Malayalam film Ardhanari has some fine performances but lacks a good script.

It is very difficult to maintain a balance when you are telling a tale about marginalised people. Director Dr Santhosh Sowparnika tries to depict the life of a transgender in the Malayalam film Ardhanari.

We plunge into the life of Vinayan (Manoj K Jayan), a teenager who has got a male physique but female emotions. Obviously, this leads to ridicule, shame and snide remarks from his siblings.

Manoj K Jayan plays a transgender with conviction without reducing it to mimicry. But the storyline does not rise above the ordinary to give the character more substance than mere mannerisms.

After being shunned by a male lover and unable to bear more beating from elder brother, Vinayan leaves homes and finds refuge in a community of hijda in a temple town of Tamil Nadu. They live on their own rules and principles, and have elaborate rituals to take in a new member in their community.

Here, Vinayan finds acceptance and love.

We find certain scenes quite superficial and at some points, the director even tries to titillate the viewers. What makes us stay with this story is the performances by the main leads.
Thilakan, appearing in one of his last performances, sets very high standards (though we miss his typical baritone as his voice is dubbed). He plays the leader of the community known as Jamaat
Sukumari and Maniyanpilla Raju also have their moments under the sun.

The whole story has underscores the absence of legal protection for the third gender and how they are treated in the ancient religious texts in various parts of the world, most of which we are aware of. At one point, we even see Manoj K Jayan as Lord Shiva. The director's main intention was to sensitise the viewer about the issues the third gender face but it is at the cost of the story.

Ardhanari holds itself together because of the actors but remains average on other counts.

Rediff Rating: