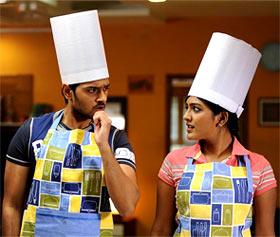 AnthakaMundu Aatharuvatha is a slice of life love story which has been maturely handled by director Mohan Krishna, writes Radhika Rajamani

Love stories are dime a dozen on celluloid and many are pretty rosy and breezy in nature.

National award winning director Mohan Krishna Indraganti comes up with one AnthakaMundu Aatharuvatha (AMAT) which is quite a slice of life.

It talks of love, romance, marriage and commitment – in essence a relationship between a boy and girl. Mohan Krishna, also the writer presents not the usual lovey-dovey version which one often sees on screen, but adopts quite a balanced notion while dealing with it.

The film is entertaining, filled with some humorous one-liners and the director also gives something to the audience to ponder about. More importantly, in today' times when sleaze is marketed in the name of romance and entertainment Mohan Krishna gives a neat and clean film which the audience can watch without squirming in their seats.

Anil (Sumanth Ashwin) is a small town guy who wants to settle in Hyderabad and have a love marriage. His mother (Rohini) is hell bent on getting him married while his father (Rao Ramesh) doesn't pester him. As his father owns a nursery he delivers flowers for their friend's daughter's wedding in Hyderabad. At the wedding he meets Ananya (Eesha) who he discovers is a painter who designs greeting cards for all occasions which is sold at a store owned by Latha (Jhansi). He's attracted by Ananya and he slowly becomes a business partner with Latha and also opens his own office in Hyderabad though one is not very clear about what exactly he does. The attraction deepens between Anil and Ananya but when the topic of marriage pops up between both they have doubts and apprehensions. Moreover, Ananya has always seen her parents (played by Ravi Babu and Madhubala) fight despite a love marriage. Anil comes to know of his father's past. So Anil and Ananya decide to live in together to test their compatibility. Will they unite or not?


The film tackles a host of issues of parents, their angst, young lovers who want love and romance yet are afraid of commitment. In the process, quite a few skeletons tumble out of the cupboard.
The director takes a rather neutral and balanced approach in presenting a ring side view of all the attitudes, viewpoints, personal space, women's dreams, problems cropping up in all the relationships.
The lead pair is saddled with parenting when they have to look after Latha's baby when she goes to the US. So, a kaleidoscope of emotions is shown on screen experienced by the various characters including Anil's office staff through the varied relationships. Mohan Krishna does not make it too sugary too.

The first half is refreshing to watch. One can see good romance on screen between the lead pair. It's almost magical to see it. Mohankrishna does a fine job in the first half. The second half becomes loaded with emotions and the climax is truly fitting.

Mohan Krishna has even touched on the television serials and industry too in the process of relationships! The pace does dip here and there a bit. Ananya's parents are unaware she is living in with Anil as they are not told by their daughter. This seems a bit difficult to fathom given the Indian societal structure.

Sumanth Ashwin has done a fairly good job portraying Anil. This is his second film and one can see some the difference in him as an actor.


Debutante Eesha emerges as a good find. She has the necessary looks and confidence and more importantly is a Telugu girl.

The chemistry between the lead pair is good.

Ravi Babu and Rao Ramesh as the respective fathers live their roles. Madhubala of Roja fame is back on screen after many years. She puts in a dignified performance. Rohini, has as usual, played the mother's role to perfection. Jhansi puts in a sprightly performance. Avasarala Srinivas who plays Sumanth's friend from Rajahmundry has been given some of the best one-liners to mouth which he does well. Tagobothu Ramesh appears in a brief and unlikely role.

On the technical front, be it the cinematography (PG Vinda), art or editing, the film is pretty sound. Vinda has done an excellent job with his camera. Kalyani Koduri's music is melodious on the ear.

AMAT is a maturely and sensitively handled, feel-good contemporary, urban love story. Producer K.L. Damodar Prasad should be complimented for producing such a refreshing film in today's times.

Rediff Rating: