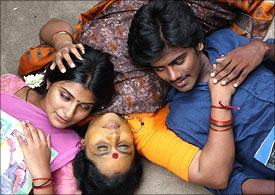 Pavithra Srinivasan says Aarohanam tells the tale of a woman's struggle with bi-polar disorder with a positive message.
Quite a few Tamil films have chosen to deal with mental illnesses such as bi-polar disorder and depression. But the treatment has usually been either frighteningly harsh or contemptible.
Lakshmy Ramakrishna's debut movie
Aarohanam
, produced by JSK Film Corporation, AVA Productions and Monkey Creative Labs, does much better. It puts across its message in a forthright and reassuring fashion.
And it begins in an intriguing way too: two socialites, Sandy (Rajee Vijayasarathy) and Jay (Uma Padmanabhan) each busily sharing details of their lives, are on their way to the launch of Sandy's website when they accidentally run over a woman.
As the two horrified women screech to a halt, the story unfolds of the woman they have almost run over.
Nirmala (Viji Chandrasekhar) has brought up her children Selvi (Jai Queheni) and Senthil (Veeresh) by doing odd jobs over the years like selling insurance at one time and vegetables at another.
She has put up with her husband's ill-natured rants, his eventual separation, and a thousand other travails. And then, one day, just before her daughter's engagement, she vanishes.
Viji Chandrasekhar shines as a woman who suffers from extreme mood-swings, even as she ploughs through life filled with
the determination to succeed.
Her family, particularly her children and estranged husband, watch her, sometimes with awe, at other times with trepidation.
Jai Queheni gives a spirited performance as well, but among the various secondary characters in the movie, Jayaprakash as the bumbling, lecherous MLA is simply wonderful.
Sampath makes a mark as well. You wish artists such as 'Kavithalaya' Krishnan had been given more space, though. The snags are in the accents: most of the characters have markedly up-market, urban accents which clash terribly with their characters and takes away from the story being told.
The screenplay, which starts with a zing through the first half, begins to meander in the second. Sequences flounder a bit and though the climax does carry a solid message, the way it's arrived at could do with some tautness.
K's music is unobtrusive most times; the song
Thappattam
is mildly appealing.
N Shanmugasundaram's cinematography makes use of every angle to focus on the characters, while Kishore T E's editing is felt in the relatively short duration of the film.
Lakshmy Ramakrishna may have made her film more like a fictionalised documentary, and stumbled at a few places, but by and large, the message she delivers is a valid one.
Rediff Rating: