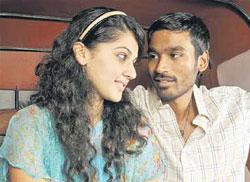 Pavithra Srinivasan reviews the Tamil film Aadukalam.  Post YOUR reviews here!
One thing's certain. Aadukalam (Playground) is easily one of Dhanush's best works to date. He's simply lived the life of someone who lives, breathes and dies rooster-fights, speaking in the Madurai dialect almost flawlessly; his body language and mannerisms are of someone who is born to the life.

Director Vetrimaran proves that his Polladhavan was no flash in the pan, taking care of dialogues and logic in a way that's impossible to find fault with. Ultimately, though it's this that plays spoilsport with the movie; he takes it a little too far.

But the analysis comes later. The first half is sheer joy to watch as events and characters unfold meticulously: K P Karuppu is a would-be Pettaikkaran, trained to raise roosters that fight, as he studies the art under his guru (Jayabalan). The gang resides in and around Madurai, immersed in a bustling, sprawling industry that's a world on its own, with its betrayals, wins, losses and relationships. Even the beginning montage establishes just how important rooster-fights are in their world.

In Madurai, they are the life and soul of certain people, one of them being Rathnasamy (Naren), a police officer whose only wish is to become a Pettaikkaran. Yet another power in the group is Durai (Kishore), a sort of mentor to Karuppu.

But life begins to play its own game with Karuppu as it twists and turns the men and women around him, including the love of his life, an Anglo-Indian beauty Irene (Tapsee Pannu), whose affections he can't easily gain. His instinctive wins with his rooster and obvious skills arouse jealousy, and with it, a betrayal that he doesn't quite realize at first. It eventually shatters him. Real life is never quite cut and dried, and the movie reflects it painstakingly.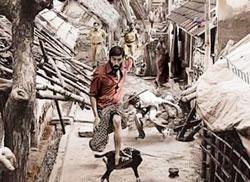 G V Prakash's music adds depth to the proceedings. Yaathe Yaathe rings in your ears for quite a while, and his background score for the climax fight is perfect. The stunt master deserves kudos too; rarely have fight sequences been this realistically choreographed. The rooster-fights are a bit artificial, though the fact that they've been done with special effects reflects good sense.

Essentially, the script is character driven; and here's where Vetrimaran scores. The dialogues are perfect, the reactions flawless and painstakingly rational. But too much of such detailing eventually causes some dissatisfaction; the screenplay builds up to something earth-shattering, a resolution you never get on-screen, and you're left feeling disappointed. A good deal of the dialect is almost incomprehensible as well, demanding a lot of concentration.

Yet Dhanush's wonderful acting (he's excellent, especially in the throes of love and betrayal), Tapsee's fresh looks, the entire casts' performance make for a very earnest film. It might fall just short of Polladhavan, but Aadukalam is the product of incredible hard work, and must be appreciated for that alone.

Rediff Rating: