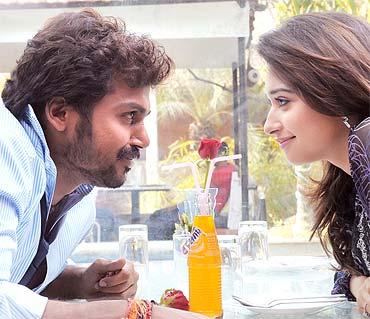 Director Siva's Tamil film Siruthai -- a remake of Ravi Teja's Telugu blockbuster Vikramarkudu -- stars Karthi and Tamannaah. Music director Vidhyasagar seems to have toed the line of the original.
With a dash of instrumental music and a signature whiff of Telugu chartbusters, Udit Narayan's voice kicks off Chellam Vaada Chellam with Surmukhi and Roshan, and it reminds you of Vaa Chellam from Thoranai. Na Muthukumar's lyrics just skim through the romance.
Adi Raakkamma Rakku kicks off with a rousing countdown into a folksy tune that reminds you of several of his numbers in Kuruvi, et al. Ranjith, Suchithra, and Roshan pick up the vocal reigns competently while Pa Vijay goes to town, bringing in French kisses and Picasso as he pleases, mixing them all in one big colloquial bouquet that isn't somehow, very fragrant. The beat thumps reassuringly, the chorus has had a good time, but that's about all that can be said for the track.
The vocal beats that greet you for Naan Romba Romba are very familiar. This would seem to be the hero's introduction number: He's the don't-carish Rocket Raja who's not a good son, and gets twice as much out of life as others, as penned by Na Muthukumar. Ranjith and the chorus run through the proceedings.
Now comes the melodious Thalattu, though it reminds you at times of the Kollaiyile Thennai from Kaadhalan. Srivardhini sings it with a soothing gentleness that does full credit to Arivumathi's words. It follows the mandatory pattern and yet comes across as a charming number.
Azhaga Poranthuputta kicks off in Malathy Laxman's trademark deep voice, with what seems like a street-theatre song. The faint flavour of raga kaapi is the only factor that adds some appeal to this song, which, otherwise, follows the formula. Priyadharshini adds her bit to the vocals, even as Viveka goes to town with the lyrics, frankly meant for the front-benchers.
Those who have seen Vikramarkudu would know that it's a completely commercial entertainer, and it looks like Vidhyasagar has followed the mandate perfectly: Provide a boatload of masala numbers that are mostly rehashed from his own stock. They're not terrible, but not original either.
Rediff Rating: