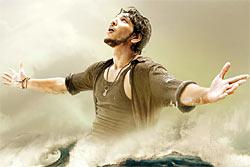 Pavithra Srinivasan feels the music of Tamil film Kadal offers a truly beautiful listening experience.
One of this year's most highly anticipated music albums is finally here, advanced by a couple of days due to phenomenal public demand.
This is unsurprising, as Madras Talkies'
Kadal
, brings back the much-revered combination of director Mani Ratnam and composer A R Rahman, not to mention the lyricist duo, Vairamuthu and Karky.
With Gautam and Thulasi joining hands for the first time on the big screen, the movie is eagerly anticipated.
A listen to the songs:
A newborn's plaintive cry begins
Chithirai Nila
, a pleasant song with the vocals gaining more importance. Rendered by Vijay Yesudas, it is a sort of conversation with an infant, a promise of life to come.
The lyrics are invigorating and are its true charm, for this is a rather familiar number, and seems to be a template A R Rahman has used often. It reminds you of his earlier compositions.
In many ways,
Adiye
takes you by surprise with the audacity with which it shifts genres. Sid Sriram transplants the Tamil lyrics brilliantly into what seems almost a Blues setting. It's a fantastic number that transcends the usual.
The instrumental arrangement, not to mention Sid Sriram's voice, reverberating with emotion, and the jazz vocals by Maria Roe Vincent add depth. A genuine classic. 
Gentle guitar strings (courtesy George Doering and Keba Jeremiah) combine anguish and happiness in
Moongil Thottam
, rendered by Abhay Jodhpurkar and Harini.
Sekar's cello adds beauty to the sweeping melody as well. The lyrics, again, form the biggest attraction here, though they stumble a little trying to fit into the distinctly western milieu. It should be interesting to see how this number is picturised.
Eley Keechan
begins with much enthusiasm,
and once again, George Doering's peppy guitar strings blend with A R Rahman's voice. The country-western air is a nice departure from the mandatory
kuthu pattu
tracks and surprises with how well Tamil lyrics adapt to an alien setting. A very pleasant listen.
Keba Jeremiah's guitar strings provide a soothing prelude to Shakthishree Gopalan's rendition of Nenjukkulle Vairamuthu's lyrics, drenched in local flavour, though the slightly western twang makes it slightly difficult to get into the mood of the number.
However, that's just the beginning; the instrumental arrangement, and the charanam elevate this number from just another composition ably assisted by Naveen Iyer's flute. A truly fascinating number.
Haricharan's fluid voice which begins
Anbin Vaasale
fairly throbs with emotion as church bells toll, and a chorus raises its voice with divine fervour, rendered by Chennai Chorale. There's an almost otherworldly lilt to the words that makes it more than just another devotional number. The gentle way it finishes adds to its charm.
If anything, it's
Magudi
, rendered by Aaryan Dinesh Kanagaratnam, Chinmayi and Tanvi Shah that seems rather tailor-made, meant to fit in with the formula for a fast-paced number. Except for Chinmayi's rather haunting words, there's nothing new here.
It's been said that A R Rahman always delivers his very best for Mani Ratnam. It looks like it with
Kadal
, where the composer experiments and runs riot with different styles with some success.
It now remains to be seen just how the veteran film-maker picturises these intriguing numbers, and more importantly, how he will fit them into a uniquely Tamil setting.
With
Adiye
and
Nenjukkulle
,
Moongil Thottam
and
Anbin Vaasale
,
Kadal
offers a truly beautiful listening experience. Go for it.
Rediff Rating: