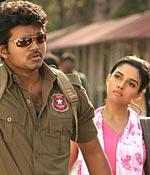 Pavithra Srinivasan reviews the Tamil album, Kaavalan. Post YOUR reviews here!


Vijay is now ready with Cinema Paradise's Kaavalan, a remake of director Siddique's Malayalam hit Bodyguard.

The Tamil version helmed by Siddique, marks the return of Vijay to the romantic genre and along with it, Vidhyasagar, an old favourite. Here's a listen at what the album has to offer:

With a crash, and thunderous medley of instruments begins Vinnai Kappan, rendered by Tipu, Swetha. It's the classic intro number that's a staple of all Vijay movies. Pa Vijay's lyrics are all that suit the number, extolling god's many merits and giving a code about how to live life. You have to admit it's a rather welcome change from ones that usually heap praise on the star until the second charanam arrives, of course. The song itself is one long exercise in thudding rhythms and folksy beats. Perfect for the jubilant Vijay fan.

Yaaradhu Yaaradhu kicks off intriguingly, with a dash of angst and a heavy dosage of romance and appropriately, as the beginning of a telephone conversation. Karthik and Suchithra (the latter pops in for the random humming or phrase) pick up the vocal reins; the song itself seems like a throwback to the romantic numbers of the early nineties, bringing a rush of nostalgia. The effect is compounded by the first interlude; the charanam seems to drag you into Yeh Shabha Shabha, which reigned supreme when it was first released (though itself a copy). It might be familiar, but it's still melodious, and Yugabharathi's lyrics seem adequate. A foot-tapping number.

Perhaps appropriately, in keeping with the title Step Step, the song itself is a conglomerate of rapid beats and the roar of an enthusiastic audience. Benny Dayal and Megha pitch in enthusiastically with the vocals. It is extraordinarily similar to Ricky Martin's Livin' La Vida Loca. The Latino flavour is heavily present throughout the song. Viveka's lyrics are as required, a proper mix of snazzy Tamil and English. Heavily "inspired" it might be, but the song's sure to quicken the heartbeat.

Karthik takes off at express speed as Sada Sada begins; the song's USP is undoubtedly its pace and brisk rhythms. It's your mandatory romantic number, with Yugabharathi providing the necessary phrases of beating hearts and tingling nerves. You've heard it before, but it has a mild appeal.
Kabilan's lyrics for Pattampoochi traverses the entire spectrum of romantic descriptions. KK cruises through the song while Rita's voice rides the higher notes comfortably. There's nothing new here.
Both director Siddique and Vijay have mentioned that Kaavalan would be a throwback to the star's earlier, romance-heavy movies, notably Friends. It looks like Vidhyasagar has followed the same mission directive. It's a relief to see less of hero-overtones and more soft numbers.
Rediff Rating: