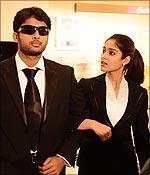 Films like Recchipo that follow the beaten path in the commercial genre make one wonder how the people in the Telugu film industry have the energy and stamina to churn out the same formulaic stuff, in the name of entertainment. If they think this is what the audience wants, they should think again as the audience cannot be taken for granted or dismissed lightly.
Recchipo (with a tagline "For Love") tests your patience and endurance power of even sitting in the theatre till the film ends.
Siva (Nitin), a petty thief robs the rich and distributes the money among the have-nots. In one such incident, he takes away Rs 500 crore from the home minister's house (under tight security). He is tipped off about the money by the police themselves. He runs away and meets Krishnaveni (Ileana) enroute to a wedding, and later at the wedding. As expected, love blossoms between them. But when the home minister (Ahuti Prasad) arrives with his secretary (MS Narayana) there's trouble for Siva as he's recognised as the thief. Siva is put behind bars. However Shukoor (Shawar Ali), the kingpin of nefarious activities such as betting wants the Rs 500 crore back. He kidnaps Krishna when she arrives in Dubai. Then Siva is sent to rescue her.
The story, as you see, is a real drag. The number of songs add to the excruciating tedium. The scenes shot in the desert are a bit new but that's about all.
Nitin and Ileana try to do their best in terms of acting but don't rise above the script. Therefore, they can't really rescue the film.
There's nothing much to talk about the technical aspects of the film as nothing is really outstanding enough to warrant attention. Director Parachuri Murali's exercise is a wasteful effort.
Rediff Rating: