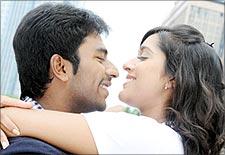 Pavithra Srinivasan says Kanden falls flat while trying to bring romance and comedy together. Post YOUR reviews here!
Handling romantic comedies is a bit tricky; there's a fine line between being hilarious, adding love to the mix and getting it right. Sri Sivaselvanayagi Amman Movies'
Kanden
(I Saw), directed by debutant director AC Mugil, sort of wavers from wringing laughter to providing romance, and falls flat on its face somewhere in-between.
Accordingly, you have local Casanova Vasanth (Shantanoo Bhagyaraj), the only surviving grandson of a rich patriarch (Vijay Kumar). He is so much in favour of love marriage that he evades all of his grandfather's efforts to get him married, even lying that he has a girlfriend in Chennai. So the grandfather proposes a condition: Vasanth has to bring his lover to their hometown within a month and get married; if not, he would have to kowtow to the old man's choice.
Thus begins what's supposed to be a cat-and-mouse game of Vasanth looking for the ideal girl, getting rejected by several, and then falling for the predictable fair-skinned heroine Narmadha (Reshmi Gautam) who swishes her hair at him in a temple. It's love at first sight. Vasanth begins the candy-floss path of filmi romance; he woos her by pretending he's blind. She falls for him and never suspects anything, his occupation, home or family. Even more hilarious is the fact that her father, a Police Commissioner (Ashish Vidhyarthi) believes Vasanth too!
And then, complications arise, which are resolved in supremely silly ways.
Shantanoo plays the too-smart lover-boy who's too sweet for words
this time around; though he acquits himself in the humour department, he hams his way through completely. He badly needs guidance in his choice of films. Debutante Reshmi Gautam has precious little to do but wear short dresses and stand around prettily; she looks a lot like the fairer version of Kaadhal Sandhya. Ashish Vidhyarthi and Vijay Kumar have been wasted.
One of
Kanden
's saving graces is comedian Santhanam (who's gone from just a sidekick to being the main prop, these days), who actually shores up the faltering screenplay and makes sure its going somewhere. It's he who appears to be having a ball; the reason you can even sit through the second half.
Vijay Ebenezer's music is peppy in parts; Unnai Kandene is catchy. Prashanth D'Misale's camera work is bright, glitzy and colourful; just the right touch for a romantic movie without complications. Anthony Reuben's editing could do with some more finesse, while S M Anand's art-work is frothy and rich, considering the film's plot.
The first half, despite it's largely logic-less sequences moves at a brisk pace, but everything unravels pretty soon in the second, limping along though contrived sequences and forced romantic interludes. You're not really invested in this couple's adventures, largely because they're not interested in it, nor are they interesting. The dialogues are trite; the plot-points are repeats from comedies twenty years old; consequently, the climax is dull. The last ten minutes are so ridiculous it's not even funny.
Considering this is his debut, AC Mugil deserves some slack, you suppose; still, he could have done much better with this crew and cast. As it is, Kanden doesn't capitalize on its strengths and proves disappointing.
Rediff Rating: