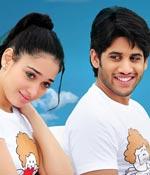 Radhika Rajamani reviews the Telugu movie 100% Love. Post YOUR reviews here!
Love stories are umpteen on celluloid and yet they invite a lot of audience. However, unless there's something novel about them the viewability quotient comes down by a few notches. Sukumar, a 'specialist' in love stories (
Arya
and
Arya 2
,) comes up with a youthful, urbane love story.
100 % Love
is watchable though it follows a somewhat predictable route in the second half.
This cute and cool love story revolving around ego has good and energetic performances from the lead pair Naga Chaitanya and Tamannaah.
The film begins in a pub where Balu Mahendra (Naga Chaitanya) walks in dressed in a bridegroom's attire and rattles off numbers and interest rates calculated by him based on figures of two people who are arguing over it. Impressed with his aptitude, they invite him back into the pub (he was spurned off before) and he narrates his story.
There begins the flashback. Balu is a wizard in maths and is a very studious guy who always excels at studies. His life follows a fixed schedule where he teaches six young students who live with him. He doesn't like disruptions in his life.
His cousin Mahalakshmi (Tamannaah) walks into his orderly life. She is brought from the village by Balu's father to study. Not interested in studies, she tries to attract Balu's attention as he is her bava. Then circumstances make her take to books. Balu helps Mahalakshmi and she beats Balu and stands first.
 Both of them feel the attraction towards each other. A misunderstanding occurs on account of ego hassles whereby the two separate and meet after three years when their grandmother is ill. There are other twists in the form of both finding lovers and even getting engaged to them. But are they in love or is it mere infatuation?
The first half is breezy and pacy. The scenes are well picturised and the look is pretty hip. The transformation of Mahalakshmi from a village belle to a city girl is interesting. The scenes and dialogues are pretty relatable to the  urban youth.  Sukumar doesn't leave a dull moment in the first half.
Post interval the film becomes a tad heavy on the emotional front with the grandmother-grandfather angle and the growing distance between the protagonists. There is an unnecessary song in the village (set on a boat and land) as part of a jatra which could have been avoided.
The comedy doesn't jut out like usual and there are just two comedians MS Narayana and Dharmavarapu Subrahmanyan in the film. It's in the second half that the film falls into the regular path like other films.  Perhaps Sukumar could have paid attention to that considering he delivers a good first half.
Director Sukumar's screenplay is fairly well crafted. Largely the film had a logical story.If Sukumar gave the base with good characterisations, Naga Chaitanya and Tamannaah provided the perfect icing with their acting. Their believable performances just revved up the film. Chaitanya was calm, cool and rock solid while Tamannaah was bubbly, energetic  and emotional. Together they light up the screen with some electrifying chemistry and it was a joy to watch both of them.
 Naresh (as Chaitanya's father),  KR Vijaya (as grandmother) and  Vijaykumar are okay.
Devisriprasad's music was peppy mostly except for the village song.  Sukumar has woven the songs well into the narrative. On the technical front, the film is okay.
100 % Love
is a film which will be liked by all.
Rediff Rating: