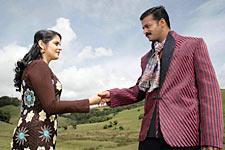 Watching the Malayalam film Uthara Swayamvaram directed by Remakanth Sarju is like watching at least half a dozen old movies.
To begin with, Jayasurya falling off the bed in his sleep and his characterisation itself is a repeat of his old movies, and there is not an iota of uniqueness in the story. Even his circle of friends look and behave like the ones we have seen in numerous other films.
Coming to the story; it is about a good-for-nothing fellow (typical of Jayasurya films) who is lazy enough to feed himself off his father's earnings and not looking for a gainful employment even though he is in his early twenties.
He is always on a war of words with his father played by Balachandra Menon, who is a humble grocery store owner. We are not given the reason why the protagonist happens to be like this. And to top it, he is infatuated by a rich man's daughter whom he believes to be his childhood sweetheart.
The director adds many more twists and turns in this stale tale.
Jayasurya is proficient enough to carry the role of Prakash. After all, he just has to repeat what he has done in many of his previous movies.  He is his jovial self, but it is us the audience who feel jaded by his repeat performance. 
Roma as the female lead (now considered a successful pairing with Jayasurya), a haughty rich girl does show some freshness. But, the situation in which Prakash gets besotted by her is a straight lift from the Tamil film Paruthiveeran.
Balachandra Menon, for his part shows some restraint and brings his own charm to the character, which may have been hyperbolic if it was handled by a lesser actor.
Others in the supporting cast include Suraj Venjaramood, Harisree Ashokan, Indrans and all of them give their best repeat performances. 
And, to the question, whether you should venture into the theatre to watch this stale film, the answer is yes, but only if you are bored of watching the repeat telecast of old movies on television!
Rediff Rating: