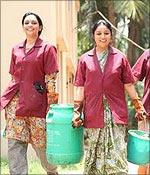 Paresh C Palicha reviews the Malayalam movie, Penn Pattanam.
Malayalam cinema is going through a phase which calls for experimentation.
And the directors oblige by going for unconventional casting and subjects. Penn Pattanam, directed by V M Vinu is one such experiment with no male lead to speak of and two actresses past their prime as the central characters.
The story by Ranjith is about four ladies working for a city corporation as waste collectors. So does the novelty work till the end? Let's find out.
The first hour of the film goes into establishing the premise. We get to know Girija (Revathy), Suhara (Shwetha Menon), Shantha (KPAC Lalitha) and Raji (Vishnupriya) and their back stories. 
Girija is widowed with two school going girls to look after. Suhara's husband Chandran (Saddiq) is bedridden. She is bravest among the four as hers is an inter-religious marriage. Shantha's son is an alcoholic and irresponsible, so she has to look after his wife and kids. Raji, who is the youngest, is in love with a youngster (played by Kailash of Neelathamara fame) with a dubious past, which is opposed by her police constable brother-in-law.
After this introduction, one expects to see how each life unfolds on the screen, peeling layers from their day to day lives. Instead, the people behind this project have got other ideas. They try to surprise us by twisting the plot. So, the foursome find a bag full of cash from the garbage dump. So far so good.
But then the plot becomes predictable with conflicts and misunderstandings plaguing the group. Very soon the movie becomes heavy and stretched.
The characters do keep us with them for the major portion of the first half with somewhat realistic take on things. And the credit for this goes to the lead actors.
Revathy as the subdued but mature widow is good. KPAC Lalitha as melodramatic and hyper ageing lady is spot on. Shwetha Menon (she even has an action sequence in a jail) and Vishnupriya just about pass muster. The absence of a typical male lead is filled by Lal as an honest police officer taking on the local MLA and Home Minister. Nedumudi Venu as the Blade Financier fills the space of a funny villain with a stammer. Even director V M Vinu makes his trademark Hitchcockian appearance as the roadside tea vendor.
The screenplay by veteran T A Razak could have been a little crisper especially in the second half as it feels like a never ending mega serial.
Finally, for all its novelty of having four female leads, Penn Pattanam could have been better.
Rediff Rating: