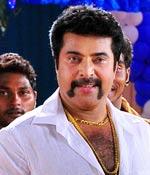 Malayalam film Pokkiriraja directed by newcomer Vyshakh starring Mammootty and Prithviraj with a script by Sibi K Thomas-Uday Krishna does not care for logic or storytelling. 
What it has are dialogues meant for rival actors and jokes about the two stars.
The story with Tamil Nadu as the backdrop tells of two feudal families fighting over a temple festival in a village. The result is death as a result of an accident. Our child hero is falsely implicated and sent to juvenile home and then exiled to Tamil Nadu, where he grows to be the Pokkiri Raja.
Meanwhile, his younger sibling grows up as powerful as his elder brother. He impersonates a police inspector to catch a college rowdy who was harassing the daughter of a commissioner. Predictably, he falls in love with her. But she is engaged to the son of the home minister thereby making enemies with the high and mighty. There is no point in detailing the story as it goes on and on without any logic.
It would be more interesting to discuss about the politics of the outside world tackled through this film. The dialogues are like this: Mammootty claims he is not insecure of the young Prithviraj as he has just started taking tiny steps. The whole narrative where the two actors share the screen are interspersed with such talk.
And, when Prithviraj talks about the dress code in night clubs, the elder one claims that he has been the style icon for the youngsters for a long time. This goes on and on.
Both Mammootty and Prithviraj have ample scope to please their hardcore fans. Mammootty dances and uses his broken English to induce laughter as has been the trend in recent times.
Prithviraj packaged as a wholesome entertainer does not disappoint. One just hopes that this manufactured adulation does not go to his head.
Finally, Pokkiriraja may supposedly achieve the super hit status with the help of the fans. But, for the genuine viewer, it is a disappointment.
Rediff Rating: