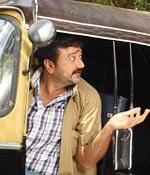 For any form of art to work, it should be rooted in real life. Those who make an effort to follow this dictum with sincerity find success.
Director Sathyan Anthikkad is a master who can pick characters from real life and make them look real on celluloid too. He has proved it yet again with his latest Malayalam film Kadha Thudarunnu.
Directors like Fazil and Mani Ratnam have dwelled into the subject that Satyan Anthikad has chosen this time -- about the problems a couple face after they begin their life together.
Here, Sathyan has taken a different route; exploring the couple's courage to be together without any support from their immediate families. In a way, Kadha Thudarunnu tackles the 'worst case scenario'.
Vidyalakshmi (Mamta Mohandas) and Shanavaz (Asif Ali) begin life together after going through a lot of hurdles. Their inter-religious love story was fodder for the media as they both come from rich families and it was only after the court's intervention that they both could unite.
Shanavaz, a budding musician took care that Vidya lived in the same comfort she had lived in her parents' place. Everything was going well for them, and they even have a daughter Laya (Baby Anikha) attending kindergarten. Then Shanu becomes a hapless victim of the goonda menace that has caught on in urban Kerala. How Vidya deals with the unexpected turn of events forms the rest of the film.
We may initially feel that the story is going overboard with the kinds of situations Vidya goes through; an educated female like her finding everything going haywire after losing her husband and has to spend nights at the railway platform is a bit too much to digest. But, this is used as the build up to bring the story to a point that the director wished.
Vidya ends up in a slum with the help of an auto-rickshaw driver Preman (Jayaram). From here, the story becomes typical Anthikkad fare with numerous colourful characters filling the screen and how they make the mother and the daughter a part of their imperfect world.
The director's deft touch is seen in the creation of slum life. There, the people do not mind taking in new members however uncomfortable their lives maybe. And, he does not miss to show the contemporary reality that slum dwellers are the crowds for hire for the political rallies, religious congregations and even filling in empty cinema halls.
The characters in the slum are performed by the director's favourite actors like KPAC Lalitha as sweet soul with a bitter tongue, Mammukoya as an agent and Innocent playing the old lottery vendor who is thrown out of the house by his only son.
The main lead Mamta Mohandas, with an author backed role, gives what may be her best performance till date. Her urban looks go well with her character.
Jayaram plays second fiddle to Mamta's character without any qualms though he has his moments and scenes which he devours. Young Asif in a cameo as the jovial musician deserves special mention. Even though his character disappears in the first half itself, his performance remains with us much after we leave the theatre.
Kadha Thudarunnu, Sathyan Anthikkad's latest social drama is a like sprinkling of light rain in this barren summer. Worth a watch!
Rediff Rating: