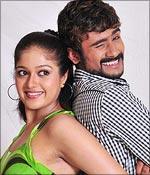 Shruti Indira Lakshminarayana reviews the Kannada film, Punda.
Yogish who was in need of a hit makes the right move by choosing the Kannada film Punda. Director H Vasu's provides him with a tailor made role and Yogish has tried to use it to his advantage.
Punda tells the story of Yogi (Yogish) whose dream is to own a flashy bike. His other obsession is his lady love. Yogi buys a bike out of the money given to him by his father (Avinash) to fetch himself a job. No bike, no job is his theory! As luck would have it, both job and the girl fall into his kitty soon after.
A melodious song and a first salary shopping spree later, all hell breaks loose. Yogi's bike is stolen by local goons and thus starts his courtship with the underworld. How Yogi saves himself and his family, and gets back his bike makes up the rest of the story.
The film moves at rapid speed and credit should go to the origibal Tamil film, Polladhavan, to which it remains loyal to. From scenes to songs, there are hardly any changes. 
The actors however do a good job with their roles. Both Yogish and Meghana Raj have come out with convincing performances. Meghana debuts with this film in the Kannada industry. This role not only allows her to exhibit her glam quotient but also prove her acting capacities, even though it is only in a few scenes. This role was done by Ramya who starred opposite Dhanush in the original. Petrol Prassana is perfectly cast as the anti-hero. Avinash and Sharath Lohitashva do justice to their characters as well. 
Punda has its share of sentiments too. It comes with an underlying theme of father-son relationship. There is heavy duty action though and the bloodshed is sure to get to you if you are not a hard core Yogish fan.
The film also does not have a peppy dance number that Yogish's films are usually known for. Pakkada mane huduganaa… falls short of the chartbuster status. 
Punda is a time pass watch for Yogish's fans who haven't seen Polladhavan.
Rediff Rating: