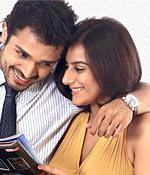 The Prakash directed Kannada film Gokula is a perfect blend of an entertaining first half and an engrossing second half.
Like most of his previous hits, Prakash has taken the film to great emotional heights without sacrificing the commercial elements that appeal to the younger generation.
The director clearly proves that he is a classic technician with this film which is on par with Milana, his best directorial venture so far.   
Gokula gets solid backing in the form of top performances from both the veterans and the young alike. Credit also goes to the technical crew. 
Prakash script does not allow the viewers to disengage with the film for even one minute even if it takes a predictable turn leading to the climax which will remain with you long after the film is over.
Gokula tells the story of four orphans -- Raja, Kannappa, Shankar and Guru -- who are bound together by their desire to make money. They attempt to do this through unfair means. The lives of these four friends take a turn when an old man follows Raja.
Raja reminds the old man of his son Kiran who accidentally drowned in a bore well pump. Meanwhile, an underworld don by the name of Kale, who is known to Raja and his friends, eyes the property of the old man and his wife. Kale strikes a deal with the four youngsters to cheat the couple out of their land. Whether the wayward youngsters give in to the don's demands make up the remaining part of the story.   
Mano Murthy's lilting melodies is adequately picturised by Sathya Hegde's cinematography. Aaramaagi Idhdhe Naanu and Majaa Maadokke are trendy and neat
Prakash has narrated the first half so efficiently that you will instantly laugh at the antics of the four orphans who are on a cheating spree. The dialogues are also quite effective in the first half, but somehow lose coherence in the emotional sequences, where surprisingly all the four local boys speak like educated youngsters. 
The casting is perfect. Veterans Sreenivasa Murthy and Sumithra have really lived their roles. Vijaya Raghavendra is equally brilliant as a fun loving boy who turns extremely sentimental in the second half. Pooja Gandhi excels in her limited role while Yesh and newbie Nakshatra are quite impressive too. Pawan and Raghuraj have also performed their roles in a cavalier fashion.   
As mentioned earlier Mano Murthy and Sathya Hegde's work is top class. The editing is superb too. 
All in all, Gokula is a treat to watch.
Rediff Rating: