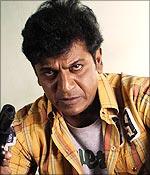 Does one's life have no value in this materialistic world? Don't the poor have a right to live? Is money the ultimate power? Shivarajkumar asks these questions in his new Kannada film, Sugreeva.

This film centres around Sugreeva (Shivarajkumar), his wife Pooja (Yagna Shetty) and son Kiran.

A car mechanic and a part-time dance teacher, Sugreeva wants to realise his dream of becoming a dancer through his son Kiran, a wannabe Michael Jackson. The two are well on their way to fulfilling their dream despite leading a hand-to-mouth existence, when life takes a U-turn and Kiran collapses while dancing in a reality show.

The scene shifts to a hospital where the nine-year-old is diagnosed with a rare heart disease and Sugreeva is asked to shell out lakhs of rupees for a heart transplant. He is also told that the surgery, though urgent, will be conducted only after the payment is made. A father's humble plea falls on deaf ears.

After failing to convince the hospital authorities, and being unable to raise so much money, Sugreeva decides to hijack the hospital. The movie is about a father being ready to go to any length to save his dying son. But is resorting to crime justified even under such a circumstance? Well, you watch the film and decide.

It has been a while since the Kannada film industry has seen a hijack drama and Sugreeva

does justice to the genre. The film not being too lengthy plays to its advantage. Also despite being shot in 18 hours by 10 directors and as many camerapersons, there is no break in the flow. The film comes through sans the ill-timed songs.

Gurukiran's background score complements the mood. A fight scene has been thrown in to please Shivarjkumar's fans. When it comes to dialogues, there are some punch dialogues like "I didn't know that now even doctors kill for money!" and "More than alcohol and cigarettes, it is fear that is injurious to health", but others tend to border on sentimental overdose.

Dialogues highlighting the apathy of politicians and the need to utilise health schemes, especially insurances, are there.

Shivarajkumar is good as a doting father. He gets his emotions right as both a father and a hijacker.  He, however, disappoints as a dancer. Yagna Shetty is convincing as a helpless mother. Harish Raj and serial artistes Manjubashini, Dilip Raj and Ashwath Ninasam are part of the cast.

Raju Thalikote, who was a hit with his comic timing in Manasare, fails to impress this time. It looks like the comedy track has been forced into the plot. Still, Sugreeva is a one-time watch.