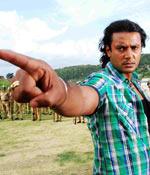 Lives are no longer precious in today's world and the latest offing in Kannada, Porki plays on this element from start to finish. From the word go, guns do the talking.
Our Porki is not any different from his Telugu counterpart, Pokkiri. He is a one man army and nothing can stop him from being a hit machine, no not even his lady love. Like he says, once he makes a commitment, there is nothing -- not even he can do to stop himself. 
Dattu (Darshan) is the man we are talking about. He is someone who is ready to kill, kidnap and fight as long as he is paid for it.
Despite his dealings -- not to mention that he in no way fulfills her idea of a prince charming -- our leading lady falls for Dattu. She thinks he is a graduate on the lookout for a job and will mend his ways once he finds an occupation. But after a song or two, the truly, deeply and madly in love Anjali (Pranita) realises that he was more than what she had bargained for. She realises too late that she has lost her heart to a 'criminal'.
Her repeated attempts to change him prove unsuccessful. In fact, the hero wants to know how she can change for him. But before you think Dattu is emotionless, let's tell you that he is against harming women and children!
Even as you start feeling an overdose of bloodshed, there comes a twist. But is the violence justified? We leave that to you.
Porki is an out and out Darshan film. He doesn't disappoint his fans in the dialogue or action sections, especially in the second half. Sharan provides comic relief at regular and much needed intervals. Lending him support are Sadhu Kokila and Tennis Krishna. Ashish Vidyarthi, who plays cop in Telugu Pokiri, is seen here as mafia king Ali Bhai. Dharma makes his presence felt as a gangster.
Coming to the music department, four songs are original compositions while one is borrowed from the Telugu version. Harikrishna does a good job with Sakatagavle…. The track ups the 'massy' feel of the movie. The introduction song caters to Darshan's 'Challenging Star' image. 
If you have watched the original, Porki can be given a miss, unless you are a Darshan fan of course!   
Rediff Rating: