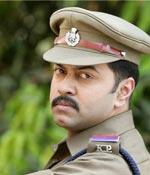 Paresh C Palicha reviews the Malayalam film Chekavar.

Indrajith, it seems, wishes to be the angry young man of Malayalam cinema. A few months ago, we saw him in the critically acclaimed Nayakan as a Kathakali artist getting embroiled with the underworld to avenge his father and sister's deaths at the hands of a don. He follows it up with his latest outing Chekavar, directed by yet another newcomer, Sajeevan.

Indrajith plays sub-inspector Kashinathan, a docile young man, from a socially and politically active family. His maternal grandfather (Janardhanan) is a Gandhian, his uncle (Jagathy Sreekumar) a retired policeman and his cousin Gunasekharan (Suraaj Venjaramoodu) an upcoming politician.

Kashinathan gets punishment transfers because of his cousin's actions, and eventually ends up in a goonda-infested area of Kochi. Then he ends up at the wrong place at the wrong time. This brings him into a confrontation with Garudan Raghavan (Kalabhavan Mani), a retired kingpin and the parallel power centre in the city.

Then Kashinathan rubs Raghavan's wayward younger brother, Udumbu Rocky (Sreejith Ravi), a cocaine snorting youngster, the wrong way. He stops Udumbu and his friends from molesting a girl, thus putting his family at risk.

The narrative unfolds at a lazy pace, as if the director thinks punctuating the scenes will get the desired effect.

Technically, the initial shots of Kochi give a feel of Ram Gopal Varma's Mumbai in films like Satya and Company, but the comparison ends there. Sujith Vasudev's camera work is not given any further scope to work its magic as further action moves into the interiors.

But the most disappointing thing about Chekavar is that it ends up being just hero-worshiping fare with loud chants of synonyms of hero's name as he comes huffing and puffing to annihilate baddies single-handedly in an elongated final assault.

Initially, Indrajith seems to be aptly cast as the no-nonsense cop. But by the end, we feel he deserved better. A little thought in the etching of the character would have worked wonders.

The Kalabhavan Mani-Sreejith Ravi combo as baddies works well, as Mani is mellowed and Ravi is exaggerated.

The women have nothing to do except shed a few tears and look scared. Only Samvrutha holds her own.

Chekavar is recommended only for Indrajith fans. But if you go in expecting to see something similar to Nayakan, you will be disappointed.
Rediff Rating: