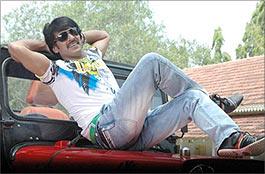 Srikanth Srinivasa feels Aarakshaka will make its audience think.
Director P Vasu's last two movies
Aapta Mitra
and
Aaptarakshaka
ran on clear and definite lines. With the latter being a kind of sequel to the former, audiences could clearly identify the characters.
However, the same cannot be said about this week's
Aarakshaka
. It will surely make people think a lot, but leave them confused about what the director is trying to convey.
Director Vasu has succeeded in playing a mind game with viewers.
In fact, Upendra, who plays the lead, has said that the script is so unpredictable that it will be difficult for anyone to understand this film after watching it just once!
The film travels back and forth in time. A psychological thriller, it begins with Arun Kumar, a cop, coming to an asylum in search of clues to crack a murder case. Maya (Ragini), a psychiatrist comes to his aid and suggests ways to get to the bottom of the crime.
Arun has a past that haunts him. It pertains to his search for his beloved wife Katherine (Sadaa) and also his mother. Arun had a disturbed childhood with his mother walking out on her husband and this separates Arun from his elder brother Vishnu. Arun fell in love with a Christian girl, Katherine, and married her, but she disappears. 
Cut back to the present. Arun thinks he has spotted his elder brother who looks much like him, in the asylum.
Upendra looks raw and has handled the role of a cop with a lot of verve. He looks right for the role and carries the film on his shoulders.
Sadaa shines as an innocent woman. Ragini looks glamorous, particularly in a solo song shot underwater. Sayaji Shinde as the hospital administrator is superb.
Gurukiran's music is nothing to write about. But the songs are choreographed well with Upendra doing some unusual dance steps. There is a song in praise of Anna Hazare.
P K H Dass has captured the locales of Kannur in all its glory. The film has been shot in Thailand as well.
Aarakshaka
needs a lot of thinking and reasoning. Go for it with your thinking cap on.
Rediff Rating
: