'If you have never seen Kangana Ranaut on screen before, and instead know more about her in real life and the spirited controversies that seem to happily follow her about, you realise that the actress puts a lot of herself into a screen role, feels Vaihayasi Pande Daniel.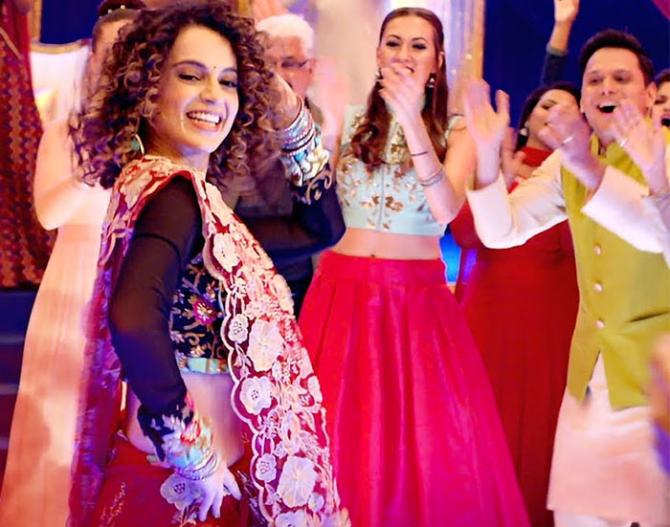 We all know that deliciously hilarious stereotype: The thepla-phaphra-eating, atrociously-accented Amreeki Gujarati, hailing from Patel Town, USA, who has the capacity to remain happily FOB for the rest of his/her life.
Kangana Ranaut essays one succinctly as Ms Praful (what-else-but) Patel in the comedy drama Simran.
She gets it so marvelously right, down to the jarring lingo and the way she says dole-ar (dollar) or beeyar (beer), bringing to mind a former colleague who couldn't say Pepsi to save his life even after 15 years in the US of A.
Equally true to type is her practical, earthy, manner and the tendency of always talking money -- to reduce life to simply dollars and cents.
Her strange, stand-out gait works too. As do the ghastly discount store clothes, topped often by a favourite baseball hat.
Ranaut is quite adorable as the jaunty, lively Praful, who lives life with a certain gay abandon, having no qualms in drinking down multiple shots in a few minutes or going up to men in bars uttering klutzy pick up lines like 'Are you tired? Because you are running in my mind' or telling off potential bed partners off with 'You are a cute guy, but not a decent guy. No protection, no sex, my friend.'
And when she gets into her best dress in the film, an off-shoulder sexy red one, her curly hair a cloud about her head, she's a knockout.
Director Hansal Mehta has done as impressive a job in bringing to life the curious US Gujju milieu, where folks only think about food, feeding you up, pujas, Nathdwara, shaadis, rishtas, fragile reputations, fellow Gujarati relatives, Gujarat, brands, thrift, bargains and money.
Life is just a slightly glossier and mod version of what it was back home in Gujarat.
Becoming part of the American melting pot is, of course, scandalously out of question.
You would be forgiven for not being able to immediately place in which part of America the movie is unfolding, other than identifying it is at one of the country's Gujarati ghettos.
Naturally, the language of the film moves between horribly mauled English and Hindi, but is peppered with two dozen su chhes, kem chos, besi jas and long but easily understandable dialogues in Gujarati.
A catchy chorus line that seems to repeat the words Ladki Gujarat ki adds vigour to rich scenes that flit between weddings, desi picnics and family drama.
Set in Atlanta, Simran's Praful is a 30-year-old divorcee who lives with her old world, still-mentally-in-Rajkot parents and has been working for the past seven-eight years as a maid in a large, centrally-located city hotel.
Every time she drives away from her dhokla-shaak-rotli-masala cloaked home, 'Praf' succeeds in putting a little distance between herself and her roots, her accent and Gujarati common sense notwithstanding, "re-entering" mainland America.
She hopes to make that metaphorical distance more permanent when she buys her own apartment, in an ugly locality named Minority Housing.
Being divorced seems to have disillusioned her with her identity.
She attempts to break out of her upbringing and thumb her nose at her parents' values, by engaging in casual sex, travelling through a string of boyfriends and embracing a more American life.
That inadvertently becomes much more of a reality after her first trip to Las Vegas with her soon-to-be married cousin Amber.
Praful falls in love with the raunchy city, which is a bit like her, and accidentally gets onto the escalator of gambling, learning the pleasures of baccarat.
You could perhaps argue that Simran's portrayal of Gujarati immigrants might be a tad corny, its humour not subtle or elegant enough and rather too similar to other humorous portrayals of Indian immigrants in films of the same genre -- Bend it like Beckham or East is East.
Or that the film lacks any shades of grey.
But though based partially on a true story -- The Bombshell Bandit, the wig-wearing bank robber Sandeep Kaur, -- Simran is a light-hearted, time-pass film not really attempting to explore any higher themes.
Legitimate too would be the complaint that the film moves ahead too predictably.
Like you have a fair idea exactly how Praful's innings with gambling will end the moment she sits down at the Vegas bar jokingly ordering 'pink champagne and caviar.'
If you have never seen Kangana Ranaut on screen before (like me) and instead know more about her in real life and the spirited controversies and feuds that seem to happily follow her about, you realise that the actress puts a lot of herself into a screen role or at least this role.
The feisty, mooh-phat, 'frank', fighter Praful/Simran has similarities with the Kangana The Rebel that you read about.
The dialogue that comes out of the mouths of the rest of the cast in Simran are enjoyably salty too and archetypical.
Like the way Praful's mother says pizza -- just as it is spelled.
Or how her parents pounce on her desire to buy an apartment believing she will be entertaining -- OMG! -- boys, bewildered by her desire for independence.
Or her mother (Kishori Shahane) referring to her job in housekeeping at a hotel as 'jharu-pota'.
Though it is clearly a one-woman film, the film hangs together with the help of its supporting actors who do their job contributing additional desi flavour like Praful's MCP, hot-tempered father (Hiten Shah) who treats his grown daughter like a child.
Or the mother who spends most of her life placating her husband and cooking.
Or even bit actors like fellow gambler, the roly-poly Dev Mehta from New Jersey or the Indian woman banker.
The best dialogue of the film is when Praful takes on potential second hubby, trying-to-be-suave Sameer (Sohum Shah), who comes from a hosiery shop-owning family in Gujarat, squarely when he equates a person's bad habits with their number of earlier relationships.
She ticks him off, delightfully, saying dating and having boyfriends do not constitute bad character.
I don't know where Ranaut learned how to act like a maid or picked up the techniques by which a maid cleans a hotel room or maybe she viewed too many of those videos (like The Truth Behind Hotel "Cleaning" Practices Will Scare You), but I wouldn't want to stay in hotel rooms cleaned by her mentor maids!
Rediff Rating: