Despite being predictable and sluggish at some places, Saina is a film Parineeti Chopra would be proud of, notes Prateek Sur.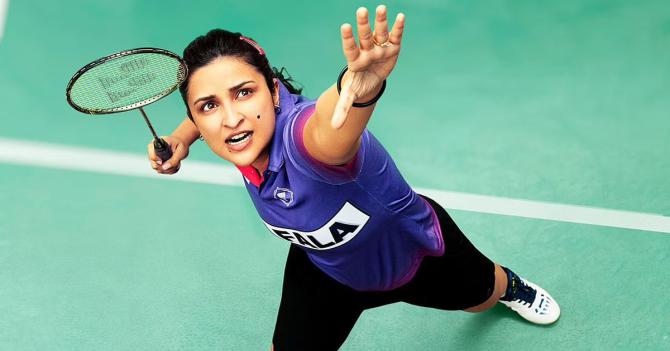 Amole Gupte's directorial comeback, Saina, has been in the making for almost five years. So expectations are high from this Parineeti Chopra starrer.
Based on badminton ace Saina Nehwal's life, this biopic revolves around how she became World Number 1 in the sport.
Will her personal life overpower her professional life?
Will she strike a balance between the two?
Will she seal the top spot without offending some people along the way?
Manav Kaul hits the ball out of the park with his very first dialogue.
He is the perfect blend of strict and necessary evil that a biopic like this needs.
He doesn't mince his words and his performance shows that on screen.
He brings his A-game once again, and that too in smaller screen space, and leaves an impact. It makes me wonder why we get to see so little of him in cinema.
Parineeti is finally playing some good characters. Even though her performance in The Girl On The Train was really good, the story couldn't hold onto itself.
But with Saina, Parineeti is sure to get a pat on the back.
Her hard work can be seen onscreen.
From playing an overweight girl to shedding off the extra kilos and getting game-ready, Parineeti has transformed her body as per the needs of the movie.
Saina, without a doubt, will be remembered as one of Parineeti's best onscreen performances.
Meghna Malik has impressed us in television serials.
She does it again as she plays Saina's strict mother who is ready to fight with the whole world just to see her daughter become the world champion.
The nuances she gets into the character of a mother willing to stop at nothing just to make sure her daughter excels in the sport that she wanted to excel in herself, is fantastic.
It seems like the role was meant for her.
The message behind the film is solid.
When a sports person makes it to the top, it's not just him/her whose efforts have gone into building their career, but their family and coaches too.
Everyone needs to be given equal credit for success.
People want their kids to become Saina Nehwal or Sachin Tendulkar or M S Dhoni or Mahesh Bhuphati or Baichung Bhutia -- but no one wants to be their parents as that would require an equal amount of hard work.
Amole Gupte's story, through Saina's life, shows the importance of these people standing by the sports star all through their lives.
Amaal Malik's music is top-notch.
It's difficult to make songs apt for situations in a biopic but Amaal has come up with songs like Parinda and Main Hoon Na Tere Saath, which you will definitely want to have in your playlist for this season.
The film does have its downers too.
You would probably feel bad for Abu Chandranshu Nehwal, Saina Nehwal's older sister.
While she has been shown in a couple of scenes in the movie, she barely has a dialogue. Not just that, there is hardly any mention of her in the storyline.
While Parineeti does acknowledge at one place that her family (father, mother and sister) have sacrificed a lot for her, there is no mention of the same in action when it comes to the character of Abu Chandranshu Nehwal.
The mother takes Saina for practice, the father takes a loan from his office in order to buy shuttlecocks, but does the sister do nothing worthy enough?
Besides, Meghna Malik plays the feisty and fiery mother in the first half, who would do anything to get her daughter to become the world's best badminton champion. But in the second half, she suddenly goes mellow.
She stands by her daughter's side during her matches and is cheering all along, but we don't get to see the fiery side of her at all.
Saina's boyfriend (now husband) Parupalli Kashyap has been shown only on a personal level.
Never has it been shown that he too is a badminton champion who has won medals for the country.
When he is shown cheering all through Saina's achievements, why hasn't Saina been shown cheering for him or at least discussing any of his matches?
Amole Gupte's direction is predictable.
Saina's life is no secret and we all know what is going to happen.
But it's the behind-the-scenes of the life of a sports star that the world doesn't get to know, and this is the reason biopics work in India.
While the sports bits are nicely-paced, Saina's behind-the-scenes life is shown in a sluggish way.
I, for one, would have wanted to see more of Manav Kaul's character drilling Parineeti Chopra during the training sessions and making the best possible player out of her.
While the discord between the two characters (Saina and her coach) was shown for quite a long time, the actual training wasn't shown to that extent.
Piyush Shah's cinematography lacks punch in Saina.
Yes, most of the scenes were indoors but it is in situations when you have constraints, that's where you have to let your creative juices flow and come up with something that people would end up remembering once they walk out of the theatres. This was just safe play.
Saina, despite being predictable and sluggish at some places, seems like something Parineeti Chopra would be proud of.
It has its shortcomings but it is a one-time watch.
Rediff Rating: