Jim Sarbh and Ishwak Singh deliver a soaring tribute to the two pillars of India's science world in Rocket Boys, applauds Sukanya Verma.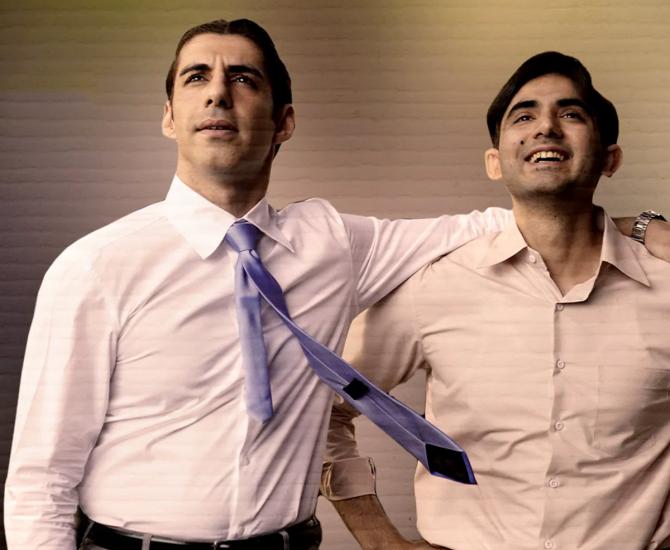 There was a time when differences didn't come in the way of development.
An individual's ideology could coexist with his aspirations and power's real purpose lay not in control but vision. It was a time of revolution and progress in a nation on the brink of winning its war of independence.
Progress is patriotism too, perhaps in far greater ways than this country remembers or has forgotten to pursue.
'India doesn't need a freedom fighter. It needs a leader,' one brilliant mind reminds another wielding power as India prepares to go to war with China.
The year is 1962, but the weight of his words hit hard as the hostility between the two nations -- military and diplomatic -- continues to escalate even 60 years later.
The passion, pursuit and privilege of India's two science geniuses, collaborators and friends -- one the father of Indian nuclear programme, another a father of Indian space programme -- Dr Homi Jehangir Bhabha and Dr Vikram Ambalal Sarabhai receives the biopic treatment in SonyLIV's entertaining, exhaustively researched mini-series directed by Abhay Pannu and conceptualised by Abhay Koranne under the patronage of Nikkhil Advani and Siddharth Roy Kapur.
All through the eight episodes of Rocket Boys spanning 1940-1966, a sense of idealism permeates through its sepia-lit frames rich in period details and mood. But the perils of advancement, the objections it raises and the degree of commitment it requires is far from fun and games.
Rocket Boys begins at the onset of the India-China 1962 war, when Homi's (Jim Sarbh) steadfast faith in making India an ethical nuclear power as a formidable defence strategy is right away rejected by Vikram (Ishwak Singh sporting prosthetic ears), a staunch Gandhian.
The episodes then slip in flashback mode and recall the formative years of their friendship.
They have a lot in common.
Both beam up like bulbs when talking physics.
Both hail from affluent family backgrounds.
Both have a somewhat complicated relationship with their dads.
Both studied abroad and had to leave following the threats of the Second World War.
Both are self-centred in their respective romantic lives.
Both are risk takers and go through a series of challenges to realise their dreams.
Both want their inventions to transform 'new India' into a 'brave new India'.
While khadi-clad Vikram is gentle and adheres to Mahatma Gandhi's pacifist philosophy, dapper dresser Homi's obstinacy and conviction in his pragmatic ways is as potent as his quirks and sophistication.
Though Vikram starts out as a subordinate, his nerdy enthusiasm not only endears him to Homi, but also influences him to exercise his privilege for better causes, ensuing in an emotionally-charged scene of the Tricolour replacing the Union Jack and Homi shutting up a clichéd 'you bleddy Indians' spewing phirang.
Patriotic fervour inspires the mood, especially on the night of freedom when the first prime minister of India, Jawaharlal Nehru (Rajit Kapur's mousy accent is borderline caricature) delivers his iconic speech. But the soul and substance of Rocket Boys is pure science bringing to mind the nervous, excited energy of Russell Crowe's A Beautiful Mind.
Sarabhai's academic obsession rolls over his courtship too after he falls for dancer Mrinalini Swaminadhan (a stoic, graceful Regina Cassandra) and likens accidental discoveries like ampicillin and penicillin to his ardour for her.
Mrinalini voices her feminism firmly, but its strength is subdued in accommodating her partner's goals.
Vikram's infidelity finds a mention too in the series, blessed by his children Mallika, Kartikeya and grand-daughter Revanta.
Workaholic Homi knows himself much too well to commit to a lifelong relationship even if it is as blissful as when he's with free-spirited lawyer Parwana Irani (a vivacious, ravishing Saba Azad). There aren't too many scenes of these two, but whenever they are together, it's a moment.
Like their camaraderie, Rocket Boys has a visible western body language. Some of it feels subversive, some derivative.
Its sublime background music brings Thomas Newman to mind, its we-are-the-people manner of experiments evokes Swades and its dramatic 'there's a mole in our midst' ending takes a page straight out of The Crown.
But there's a finesse about it, like the natural appearing ageing of its characters as well.
Besides the science of cosmic rays and nation building, DSirector Abhay Pannu also shows flair for dialogues with a bite alongside Kausar Munir, shrewdly drawing parallels between past and present.
On the lighter side, there are allusions to catchphrases of these times -- aatmanirbharta and 'Made in India' -- but on a serious note, the bitter side-effects of elitism and skewed secularism are highlighted in the character of fellow nuclear physicist Dr Mehdi Raza (a compelling Dibyendu Bhattacharya).
Raza is a fictional mix of several real-life characters the makers, clearly, don't want to antagonise.
Rocket Boys doesn't ruffle any diplomatic feathers but doesn't shy from pointing out the fallibility of luminaries or acknowledging the many conspiracy theories, particularly the role of the CIA in Homi's final flight.
But it does retain a fanboy enthusiasm in capturing glimpses of historical legacies in the making, be it a certain 'Indu' or A P J Abdul Kalam.
But its tour de force are its two leads.
Sparkling and spirited, they internalise the romanticism and ambitions of two mad virtuosos at work.
Sarbh and Singh's bromance and mutual respect feels intimate, like one that is gradually built over time.
Jim Sarbh's magnetic charisma enriches a flawless, fluent portrayal.
Ishwak Singh's optimistic ardour is straight out of the Balraj Sahni school of realism.
Together, they are a force to reckon with and deliver a soaring tribute to the two pillars of India's science world.
Rocket Boys is streaming on SonyLIV.
Rediff Rating: