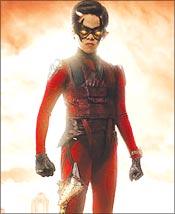 Preeti Arora reviews Zokkomon.
Post YOUR reviews here!
Good versus evil. The age old theme of all superhero films. And kids don't complain. They're happy to see wicked goons being thrashed to death. Add to this 'prescription' a healthy dose of Bollywood ingredients. The helpless orphan waif. The scheming and manipulative uncle who won't hesitate to bump off his nephew. One crazy maniacal-bordering -on- lunacy scientist. A small village with an unpronounceable name where superstition prevails over logic.
But as any veteran chef knows the right ingredients and recipes do not always transform into a perfect dish. 
Zokkomon
is a blend of 'correct' formulas which fail to come together as a cohesive whole.
Darsheel Safary, plays Kunal a youngster who has lost his parents in an accident three years ago.  He's now at the mercy of his uncle Anupam Kher, the evil chacha, a character we last saw either in a Rajshree film or in the sob stories from the '60s. Darsheel is pulled out from his boarding school (
where he's happy
) and put into the village school, but Anupam Kher is a crook who has been embezzling funds for a longtime. And now there seems to be just one way out of this situation. He must get rid of his nephew and take over his inheritance.
So the little boy is abandoned and presumed to be dead. But then Anupam Kher is in for a bit of a surprise. Did his nephew die and is his ghost troubling the village? Or has this kid on the brink of adolescence acquired superpowers which enable him to terrorize the entire village? Who is
Zokkomon
and what does he hope to achieve?
The faulty screenplay initially aims at giving us Darsheel Safary as we remember him in
Taare Zameen Par
.
The little tot who shivers when he's pulled up in class. The quivering lips, the stammering speech which was so appealing then seem repetitive and to a certain extent irritating. It doesn't work. Pity because Darsheel has a certain charm where he effortlessly manages to involve the audience. Which hasn't been exploited…
As Kunal decides to take on his uncle and expose his shady exploits to all his disciples and devotees he finds one friend, the crazy scientist Dr Vivek Rai (
also played by Anupam Kher
). For the die-hard Anupam Kher fans here
Zokkomon
is a delight. As the uncle Kher is usual oily self with an ill-fitting wig. But it is as a crazy scientist that he creates a new avatar. It's difficult to recognize him. Only an actor of his stature could have pulled this off.
Manjari Phadnis has a fairly large role with almost no substance. She has more than a dozen get-ups in one song yet it fails to create an impact.
Debut director Satyajit Bhatkal sets out with the right intentions. For too many years little tots have worshipped
Superman
and
Spiderman
. The timing was right to create a desi superhero who would be worshipped by kids and adults. Darsheel Safary was the most perfect casting since he was considered Bollywood's superkid.
But a lackluster script and an overdose of clichéd situations turn this film into one more 'preachy affair'. Not something we expected from Walt Disney's first Hindi venture.
Darsheel fans might just want to see this film. But be prepared to get disappointed. The rest are better off giving it a miss.
Rediff Rating: