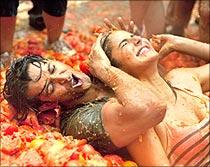 Raja Sen feels that Zindagi Na Milegi Dobara is not worth a watch. Post YOUR reviews here!

Never disagree with Bond.

For the big-screen adaptation of Ian Fleming's You Only Live Twice, Nancy Sinatra sang about how twice was the only way to live: 'One life for yourself and one for your dreams.'
The promising Zoya Akhtar turns this wise dictum on its head and suggests that one only live for one's dreams, and not for anything else.

Therefore, in the painfully vacuous tourism advert Zindagi Na Milegi Dobara, characters are encouraged to forsake reality for adventure. Easier typed than done, that, but the characters in Zoya's film are wealthy enough to not care about the banalities of real life and real relationships, preferring instead to seek succor while on holiday, while the filmmakers try desperately hard to retread genuine greatness achieved in a classic film 10 years ago.

One basic fact: everyone in Dil Chahta Hai could whack a line of dialogue out of the park. Here, on the other hand, we have Hrithik Roshan, Farhan Akhtar, Katrina Kaif, Abhay Deol and Kalki Koechlin. A fascinating cast of eclectic youngbloods, to be sure, but so marred is each of them -- by either accent or voice -- that the first 20 minutes of the film are spent wincing. Do real people speak like that? Do we sound that painful? No, dear reader, we don't. And the sooner you stop equating the characters of this film with real people the better.

The boys are men pretending to be boys pretending to be men. The result is a group of actors being embarrassingly juvenile while trying to deal with just how badly miscast they all are. Farhan, at his best scowling, gruff or just intensely stoic, is here the funnyman of the bunch, a disastrous decision as anyone who has had the misfortune of sitting through his standup comedy on television will agree. Here too, he is unfunny, almost patently so. Here too, he laughs at his own jokes the loudest. Ouch.

Abhay, playing an effete square only around to be warmly amused by the other two, does the straight-man routine in a way that makes that term sound oxymoronic.
Roshan, an undeniably good looking man who shone scene-stealingly in Zoya's last film, here narrows his mouth as if preparing to resuscitate a dying goldfish and speaks nonchalantly about how much money matters.

The pretty Kalki's given an impossibly shrewy character but she's awesome enough to rock a singalong moment in a car, and there's only that much blame we can assign to a character when her father is Suhel Seth. There, there.
Katrina just looks bored and, it must be said, unhot. Which seems like a feat in itself. Maybe it's intentional. Maybe Zoya wants to show us that there's more to Kat than her increasingly smoldering looks, but when we see Katrina Kaif on a beach in a movie where the backdrop matters more than anything else, we want her to stun. She doesn't. And those fake shots of her riding a bike are executed with hilarious amateurishness. Still, there is something luminous about the girl.

That's why this feels like such a waste. It's a good cast of talented actors, but as each of their directors would tell you, they're a mostly limited bunch. Hrithik and Kalki are histrionically strong enough to manage varied roles, but with the entire cast thrown out of their comfort zone and forced to either sink or swim, well, glub glub glub it is. Sigh.

Hindi cinema finally seems to have gotten camaraderie right. Pyaar Ka Punchnama, Shaitan, Delhi Belly: none of them quite scratches the surface of greatness but each gives us bonafide bonding between its leads. This one, starring the man who wrote and made Dil Chahta Hai, a film under the shadow of whose coolth we've grown as filmmakers and viewers, tries so hard it never feels warm or real or relatable. These guys wouldn't go anywhere for a piece of cake, they'd just go. And that defeats the purpose entirely.

The threadbare story is about a bachelor trip in Spain, gorgeously shot by cinematographer Carlos Catalan. Everything happens with template predictability but -- me being the one person on the planet who enjoyed Hangover 2 -- I'm okay with that as long as the gags or the guys are real. They aren't. They're contrived and too desperately young and -- while I didn't want to say this for a second-time filmmaker with immense potential -- sophomoric. I'm sorry, but you'll have to do more than throw in the word 'the' a few extra times and put some sunglasses on a handbag. ZNMD doesn't earn our laughs.

So fixated is the film on trying to appear 'cool', even 'minty-fresh,' that the emotional connects all seem like afterthoughts. Especially the flashback each boy has, and their subsequent, convenient epiphany. It's all so surfacial and unnecessary, even when well-performed, like the moment between Naseeruddin Shah and Farhan, when the latter is finally allowed to drop the forced grin and cry like he does best.

At a point in the film, a point where the Top Gun theme ought have been licensed, the speakers suddenly and inexplicably play out Saare Jahan Se Achcha. This makes absolutely no sense, on any level ironic, comedic, obvious or subversive.
Maybe what Zoya really meant by the title is her attempt to cram absolutely everything into a movie in the case that she never gets to make another one.

Breathe, Zoya. And do remember what Mr Bond said about never saying never again.

Rediff Rating: