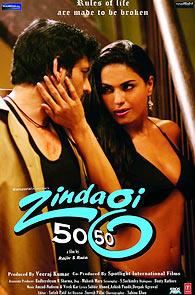 Zindagi 50-50 makes a brave but half-hearted effort to depict the dark cruelty that surrounds ordinary lives of three women. It fails miserably as sleaze -- of language as well as skin -- overtakes the proceedings, writes Prasanna D Zore.

The film revolves around three women Rupa (Supriya Kumari, brilliant as a housewife), Naina (Riya Sen as a struggling actor needs acting lessons) and Madhuri (Veena Malik, acts well as a prostitute) as they make compromises to achieve their dreams.

The story brings to the fore the shortage of housing in Mumbai as Rupa and her auto rickshaw-driver husband Birju (Rajan Verma) eke out a living and yet trudge on with their lives in the hope of getting a MHADA-allotted home.

The husband-wife duo gives a close-to-real picture of how the man (and woman) in the street faces the vagaries of a metro city that is almost inhuman to those who live in its teeming tenements sans basic infrastructure. In their quest for a dream home then, Rupa finds herself faced with a situation where she has to either compromise her chastity or live in the fear of her husband committing suicide if they don't get an allotment letter from MHADA. The housewife buckles under pressure and gives in.

Naina, a struggling junior artist, is yet another regular figure that one comes across in the city, home to we all so fondly call 'Bollywood'. Naina and her dreams of making it big as a heroine is every junior artist's dream. Her failure then, to grab the crown despite sleeping with a scheming producer after being cajoled and convinced by her boy friend, make you think of girls you know who have met Naina's
fate.
Madhuri's prostitute is again as commonplace as they come.
In fact, all the three characters are so commonplace in this city that you feel you have crossed paths with them at some point in time. And that is where director Rajiv Ruia succeeds in making you feel for these three women.
Unfortunately, the way the story unfolds -- and some of the dialogues where cuss words and vulgarity flows freely -- gives you an impression that Ruia and producer Veeraj Kumar wanted to take a shortcut to the Box Office -- or at least to get the audience inside the theatres -- by getting Malik in the act.
This is not an attempt to take away from the way the Pakistani actor has portrayed the half-etched role assigned to her.
Though she acts well, Malik doesn't have it in her to make you feel for her sorry condition. But then that's not her USP and that's not why she was chosen to do the film. Nevertheless, she is the one who will definitely get the masses in.
Though Naina's character has got an edge over Madhuri's, Riya Sen fritters it away by her non-acting skills. The scene where Arya Babbar ditches her after making her sleep with a producer does provide her scope to show her acting talents, but alas!
The only woman who rocks in
Zindagi 50-50
is Supriya Kumari in her role as Rupa. She makes you empathise with her predicaments, shout in rebellion with her as she spews fire on a lecherous MHADA officer and makes you drown with her in her guilt as she admits to 'wrongdoing' to her husband.
Rediff Rating: