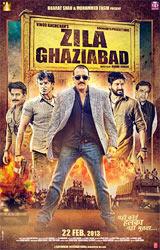 Zila Ghaziabad's seemingly unapologetic disregard for authenticity, among other things, makes it substandard fare, writes Nishi Tiwari.

It takes a special kind of talent to make a film like Zila Ghaziabad.

The film evokes laughter, exasperation, and fear, but in all the wrong places.

Supposedly based on a real life rivalry between two Gujjar families in Ghaziabad, Anand Kumar's Zila Ghaziabad is a treasure trove of unintended humour -- but that too gets tiresome, to say the least.

The seemingly unapologetic disregard for authenticity is especially noteworthy.

The story is set in a place that is never identified in the film.

While it is established by way of random item numbers that the story is set in Ghaziabad district, it is referred to as a city, village, and district by various characters at various points in the film.

Pritam Singh Chauhan (played by Sanjay Dutt), a cop with a shady reputation, who has been charged with dealing with the warring families, has massive tattoos on his arm.


Characters switch from urban Hindi to awkward Haryanvi whenever they get angry or dramatic.

And it turns out that women in Ghaziabad in the 1990s were the most eccentric dressers of their time. So, while the city chairman (of what, we never get to know) has a daughter (Charmee Kaur) who alternates between chiffon saris and salwar kameez, the history sheeter's (Arshad Warsi) girlfriend (Minissha Lamba) saunters in and out of the frame wearing bronzer and lehengas that could have come fresh out of the latest fashion week.
One scene has Ashutosh Rana standing in front of a car with a Maharashtra registration number plate. Everybody smokes in the film save for Vivek Oberoi's Satbir (presumably to establish that he's the good guy).

The film opens with an introductory song and Fauji (Warsi) dancing with his cronies after looting a train. The scene then shifts to the idealistic city-educated Satbir teaching kids -- who couldn't be more than five years old -- about non-violence.


The film moves forward at a manic pace -- after all, there are people waiting to be randomly bumped off before it's time for the climax.

So, the city chairman (Paresh Rawal) has a falling out with his henchman Fauji, who joins the rival gang of Rashid Khan (Ravi Kissen), leaving the chairman with his upright associate, Satbir, who is wary of getting sucked into the bloody war.

Nevertheless, Satbir finds himself in the middle of all the action and despite all the angst and regret he expresses (by his unnecessary facial contortions), seems to enjoy every bit of it.

There is no strategy, and no thought given to how each gang will one-up the other as they just go around killing off each other at whim.

Action scenes look like choreographed dance sequences -- Sanjay Dutt and Vivek Oebroi are literally flying in the climax fight scene -- and wisecracks are as asinine as can be.

At one point, Arshad Warsi says, "Tere pichhwade mein itni goliyan marunga ki tere bachche peetal ke paida honge." Wait, that doesn't make any sense.
That, primarily, is the motif of the film. It's a film made up of random shots, heavily- borrowed technique and half-baked direction.

The less said about the acting of the lead actors, the better. Vivek Oberoi, with his pseudo-idealist hero, is the most cringeworthy of the lot. Sanjay Dutt, with his glassy eyes is unabashedly having fun with little regard for the film's plot.

South actress Charmee Kaur, who showed some promise in her debut Hindi film Buddahh Hoga Tera Baap, in 2001, is completely wasted in the film and so is Arshad Warsi who looks more endearing than the affable Circuit when he's playing an irrational brute.

Chandrachur Singh does an ill-advised cameo as Satbir's older brother who manages to mouth dialogues without so much as moving a facial muscle.


To put it mildly, Zila Ghaziabad is assembly-line garbage.

Rediff Rating: