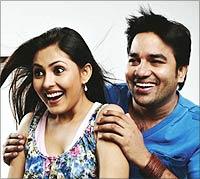 Tamil music composer Yuvan Shankar Raja is back with Passion Movie Makers' Pathinaru in company of lyricist Snehan. The album is being billed as Yuvan Musical.
Let's see how good the songs are:
There's an almost tribal feel to Adada En Meethu. The instrumental medley kicks up slowly, as Bella Shinde picks up the vocal reigns with Hariharan and the chorus pitches in. Finally, the whole group explodes into an ecstasy of song.
Surprisingly, this isn't really Hariharan's song; it's the female lead's number all the way, a welcome variation.
Karthik Netha's lyrics add a dash of zest to the song. Towards the end, you sense that Yuvan has tried out something different and appreciate the effort.
As is now the template in a Yuvan album, the composer himself picks up the vocals for Yaar Solli Kadhal, penned by Snehan. This one is slow with a steady rhythm, and borrows a good deal from a couple of Kaadhal Solla Vandhen's praiseworthy numbers.
The instrumental medley for the interlude is truly mesmerizing; the shift to charanam is different as well (reminding you of one or two Ilaiyaraja classics from the 1980s). The lyrics themselves conform to the usual romantic formula; the tune, however, carries it through. It's slow, soothing and quite melodious.
What sounds like temple bells clanging and cymbals clashing brings you to the beginning of Kaatu Chedikku Kaaval, with Karthik Raja rendering the number. You've heard this sort of number among Yuvan's songs before, but it's still a pleasant listen.
The title Vaanam Namadhe gives you an indication of what sort of a song it's going to be. It is moulded along the lines of Nimirndhu Nil from Saroja. Shankar Mahadevan plays along well with the sober, subtly aggressive notes. Snehan's lyrics fit the situation. This is a conventional song, but still worth a listen.
Pathinaru's theme music meanders through sorrowful and angsty emotions, touching on the nerve-centres of songs like Yaar Solli and Kattu Chedikku, ending in a flute's lonely wail. Not spectacular, perhaps, but a pleasant listen. 
Pathinaru might have plenty of Yuvan's signature tunes, but there are moments of appeal that give some depth to the album, and veer away from his template. Worth listening.
Rediff Rating: