A Ganesh Nadar wonders what Kamal Hassan hopes to achieve with this film.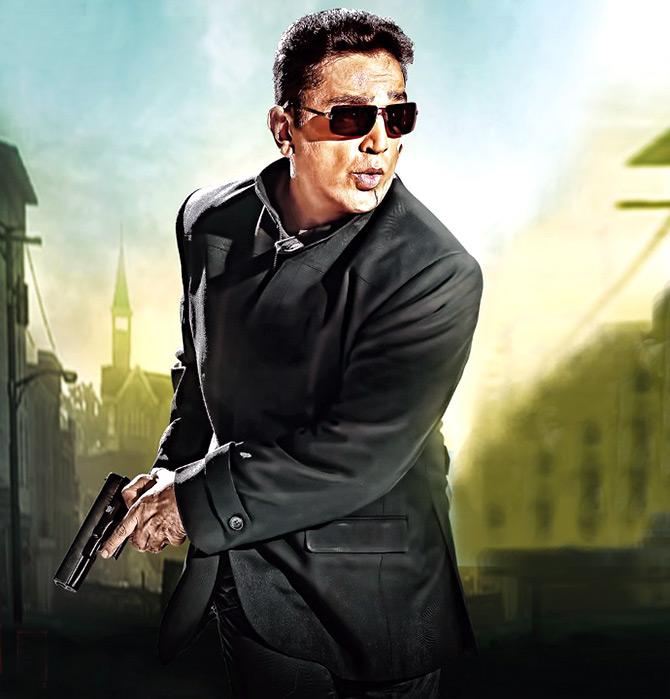 Vishwaroopam II opens with Kamal Haasan launching his new party.
We are shown crowds that he has attracted from every district of Tamil Nadu.
Rajinikanth had the single agenda of attracting Muslim votes with Kaala, but Kamal Haasan wants them all.
So we have him in a fishermen's colony, then in a Nadar college. And, in true Dravidian style, we have Brahman baiting where a double-crosser is a Brahmin.
His first movie of the same name had Muslims up in arms for showing them in a bad light.
Here, the message is clear as the one Taapsee Pannu spelled out in Mulk: 'Terrorism is a criminal act, not a communal one.'
Kamal Haasan uses the same line.
He must have saved a lot of money in making the movie as he is its Director, Writer and Hero. And he shares credit for Choreography and Lyrics.
As is the trend with big stars these days, we have two heroines.
You cannot make sense of the script because half of it is in flashback mode, moving back and forth in such a manner that you don't realise where you are.
As my philosophy professor used to say, "You don't know you are dreaming until you wake up. So how do you know you are awake now and that this is not a dream?"
Kamal Haasan possibly studied the same philosophy.
But let me make an attempt to understand the story.
There is this guy who infiltrates a terror group in Kashmir and goes to Pakistan where he tracks down... hold your breath... Osama bin Laden!
Then, he moves on to defuse a bomb in London and finally comes back to defuse 64 bombs on our 64th Independence Day, implying that the film is set in 2011.
Since they don't even attempt to connect the dots from Kashmir to Osama to London and back to Delhi, I won't either.
We must, however, appreciate the fact that he got a world renowned director like Shekhar Kapur to act in his movie. And it's not a small part either.
Even bigger kudos for getting Waheeda Rehman back on the big screen. The legend acts as if she was never away from the camera. Many in the Chennai theatre where I watced the film didn't know who Waheedaji was. It was heartbreaking.
And how did he get an actor of Nasser's caliber to come on board just for one scene?
Talking about the cast, Andrea Jeremiah does well in the action sequences and in scenes where she has to use her wit to needle Kamal and Pooja Kumar.
Rahul Bose looks clearly uncomfortable as the villain.
None of the songs ring a bell and none will be remembered once you leave the theatre. The background music sounds like noise delivered using musical instruments.
The film's makers have spent a lot of money on cars, aircraft, ships, diving equipment and underwater cameras.
And the cars are really sturdy. Twice, cars roll down mountain but nothing happens to the passengers.
The car manufacturers should thank Kamal for showcasing how safe their cars are. And they must pay him as well, since he is not going to make any money at the box office.
It is telling that the first show on the first day saw a lot of empty seats. And this is not a film that can depend on word-of-mouth to increase its viewership.
I give it one star and that's only for the wonderful Waheeda Rehman.
If snacks during the interval counted, Vishwaroopam II would have got a second star... the vada pav I had in the interval was almost as good as the Mumbai original.
Rediff Rating: