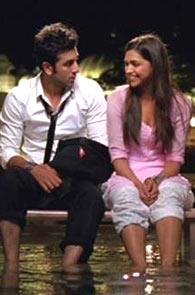 Yeh Jawaani Hai Deewani is predictable but who cares? Romance is back with a bang and it is exuberant, entertaining, dazzling and worth your time, writes Sukanya Verma.

'You can't have it all. You will miss out on some things. So why not enjoy what's in hand?' recommends Naina enjoying the gorgeous view from a vantage point of a grand fort, just few minutes short of witnessing a breathtaking sunset. Bunny, the recipient of her suggestion, reluctantly agrees.

They have a good evening.

Director Ayan Mukerji's second endeavour, Yeh Jawaani Hai Deewani works exactly like this scene from the movie. You know that content smile you return with after spending time in fond company over effortless laughter and magical connections? That.

The opposites attract genre isn't path-breaking. Like 'dal chawal' which is an oft-used analogy in the romance, certain inevitability is a given. So you always know what it's about, where it's headed, what it'll deliver but if it can still be fun then, the challenge is more than fulfilled.

Mukerji has crafted a film about characters he clearly cares about and wants you to do the same, where even if the conclusion is a tad convenient, it's the one you want to see.

Yeh Jawaani Hai Deewani is about four friends, their camaraderie, adventures, discoveries, dreams and decisions over a mountain holiday and a destination wedding. (Here, parents are mostly on the periphery except a fleeting interaction with Bunny and Naina's.)
It's a perfectly glamorous setting (shot by V Manikandan) and gives him abundant opportunity to live it up in a manner his producer Karan Johar can feel either proud or outdone. But I am pretty sure it's the first one considering the magnanimity he's shown in loosening the purse strings -- some thousand champagne glasses are destroyed for a stunning slo-mo second of a lavish party song.
But he has his own disarming style. His protagonists are not mere character sketches but a beautiful version of people you know/knew.
Remember that boy in class who could fix everything with a smile and get away saying the most outrageous things without batting an eyelid? Or his best friend and partner-in-crime who backed all that wild behaviour by contributing plenty of his own? How their singular aim is to drink and get everyone drunk -- those seemingly careless blokes who secretly care a great deal. Or the hard-talking 'one of the boys' girl with enough feisty bones in her petite frame to give Manali's bullies a run for their money? And, most importantly, that shy girl that brought out the Shah Rukh Khan in every boy, the one you wish to 'palat'?
Bunny (Ranbir Kapoor), Avi (Aditya Roy Kapur), Aditi (Kalki Koechlin) and Naina (Deepika Padukone) -- they're all a product of those same filmi values and fascination, where ice can be broken over something as simple and silly as Bachchan's strenuous moves in Jumma Chumma De De (Hum). And this I loved about YJHD, how Bollywood runs subconsciously in their blood -- the approach makes a world of a difference to the narrative. The upshot is a sublime celebration not a done-to-death tribute.
At a little less than three hours running time, YJHD is essentially two chapters. In the first half, the foursome hang out in the picturesque, snow-clad hill station of Manali to engage in trekking, adventures, mandatory dimwits, jealousy and coming-of-age.
Mukerji cultivates the blossoming chemistry between the travel aficionado Bunny and Neuroimmunology-studying Naina at leisure. Their moments always end on a poetic ellipsis, the attraction must bear slow-brewing conviction, he prioritises.
It's a good call by the young filmmaker since it certainly helps the emotionality during the second phase of their affinity, which has an underlining philosophy of true love bringing out the best in a person. Of course, since the events take place around a fancy Udaipur wedding (where you actually see brief glimpses of the extent of preparation that goes in high-society festivities), the leading quartet finds more reasons to party.
The pace does drop intermittently for the sake of accommodating brightly-picturised songs (composed by Pritam) but its crisply-written script doles out enough humour to complement the inevitable sentimentality. I, for one, simply loved the uncomplicated, blunt wit of Hussain Dalal's chuckle-worthy dialogues (Abbe dhongi, tu cheating nahi karta toh ab tak fourth standard mein hi hota, Venice, Europe ka dharavi hai).
Moreover, Mukerji's actors appear to understand his vision intimately.
Ranbir Kapoor is perfectly cast as the hippie-at-heart Bunny. Whether he's sipping Roohafza with his dad (Farookh Shaikh, two scenes is all it takes to convey brilliance), telling Deepika Padukone how special she is, fondly referring to his gal pal Kalki as 'Mere Cheetah' or shaking a leg with a tantalising Madhuri Dixit, the extent of romanticism, charisma and verve he conveys; lends YJHD all the personality it needs.
Kalki Koechlin is precious as the emo turned Emma and induces a big grin every time she gets hostile, 'Tere baap ke sandwiches hain kya?'
Aditya Roy Kapur is somewhat overshadowed but his droopy shoulders and smiley-faced indifference conceal a story that's only implied never realised to focus on the sweeping chemistry between Ranbir and Deepika.
They've worked before (in Bachna Ae Haseeno) but the timing in YJHD is something else. Also, Deepika has never looked this radiant and fragile. She exudes grace and sensitivity as Naina, not quite the filmi definition of nerd.
She wears glasses but her frames are stylish not over-sized monstrosities designed to make her look unsightly. She is quite a sharp dresser (unless your idea of chic is Evelyn Sharma's tacky wardrobe). Sure, she prays. But there's none of that exasperating Katrina Kaif's barter approach with God. Naina is reserved and self-conscious and one endearing scene, 'You're dying to party, right?' captures the core of her soul perfectly.
Often change is depicted with a makeover in our movies. Here too, all four, go from college teens to professional adults in their late 20s. They do start dressing differently. There's a certain refinement that comes with age and making money after all. But they don't change, they just grow up. Their essence remains unaffected.
Avi is still the playful, reckless charmer with a drink in hand. Naina's competitive streak surfaces during the bride versus groom sangeet program. Aditi's wardrobe is all ladylike but she hasn't lost an ounce of her lively spunk. And Bunny is unpredictable as ever.
Something Yeh Jawaani Hai Deewani is not. But who cares? Romance is back with a bang and it is exuberant, entertaining, dazzling and worth your time.
Rediff Rating: