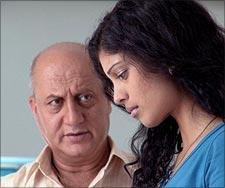 Shaikh Ayaz reviews Yeh Faasley. Post YOUR reviews here!
Constantly quibbling over whether he loved her or not, the Daddy and his daughter arrive at a point when they feel the distance; a disconnect that deepens further as uncomfortable truths tumble out. She has, in any case, never spent too much time with him and perhaps doesn't know him too well.
Maybe this is what Yogesh Mittal's
Yeh Faasley
stands for. It is about a man who has a past and his daughter who is in pursuit of finding out more truths about him than he can remember, or would even care to. At the centre of her personal inquiry into her father's history is the relationship he's shared with her mother.
So, you have a girl (Arunima played by
Tena Desae
) who returns after completing her studies to stay with her father, Dev (
Anupam Kher
). She chances upon a will written by her mother which sets her to investigate, even question whether her father was the real cause of her death.
Constantly, Arunima lives in a 'shadow of doubt', never realising the mysteries that her
home could contain. She's curious to know what was it like for her mother to be with her father. She's disturbed when her doubts lend a deep sense of contradiction to the perception she's had of him all through.
Instead of going about it in a mature way, the debutant director handles the emotions of an anxious girl in an infantile manner. At times, you have no idea why you are even sitting there and what is it that will salvage
Yeh Faasley
. If it is a thriller, it does not have the necessary thrills and if it's a murder mystery or a father-daughter drama, it does not make the cut, either.
At her best, Tena Desae struggles to leave an impact but fails because of her limited acting abilities and a not-so-impressive presence. Having said that it would be unfair to lay all the blame on her.
Mittal is unsuccessful in creating strong characters who are in turn let down by an amateurish script with a mix of B-movie dialogue and 'my daddy's the best.. my mummy was happy' moments.
Wonder what was going on in Anupam Kher's head to agree to act in it. Shouldn't we, instead, just get nostalgic watching Kher's infinitely better act as an alcoholic father to Pooja Bhatt in the 1989 flick
Daddy
?
Rediff Rating: