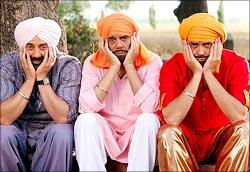 Raja Sen reviews Yamla Pagla Deewana. Post YOUR reviews here!

There is a scene in Yamla Pagla Deewana where Sunny Deol wears an Incredible Hulk tee-shirt. This is symptomatic of the film's biggest, most glaring problem: it does everything in fatally flawed measure.

Bobby Deol is given the film's most actor-heavy role, Dharmendra vanishes for long stretches of time and Sunny, well... suffice it to say that the Hulk should wear a Sunny Deol tee.

For he's still got it. From those legendary two-and-a-half kilo hamfists -- making his Macbook Air look like an iPhone -- to that genial, wonderfully warm grin, big brother clearly is still big brother, shouldering the show all his own. In his early 50s, he can still charm the screen as an immensely likeable Sardar -- but unfortunately this isn't a Sunny Deol film.
It's an all-Deol film, which isn't necessarily a bad thing (let us try and forget Apne for a moment, yes?). The trailer was a hoot, and many of us looked forward to the promised self-spoofery. Unfortunately, the trailer is all Yamla Pagla Deewana has to offer, the film itself nowhere near funny or clever enough to warrant a recommendation. It's a drag, with long unfunny stretches of Bobby-ness, and the sad truth is that it could have been such a blast.
Prior to YPD -- one of those films far less entertaining than the songs they are named after -- director Samir Karnik has helmed films like Kyon Ho Gaya Na, Nanhe Jaisalmer, Heroes and Vaada Raha, a collection of turkeys this latest film would feel quite at home alongside.
Starting with a weathered montage of lost-and-found shots, the film clearly wants to be a spoof but perpetually, exasperatingly, stops short of full-on farce by getting mawkish, emotional and even weepy.
Sunny Deol, married to a Canadian blonde who can curse with Punjabi relish, comes to Benares to hunt out his scamster father and younger brother. Bobby and Dharmendra don't quite believe him, but Sunny's muscle makes him a convenient ally, and the three join forces. Then the film descends first into Dilwale Dulhaniya Le Jaayenge territory, wrapping up eventually with a Priyadarshan-style slapfest.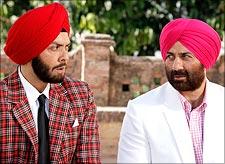 As said, Bobby's the big disappointment here. The least charismatic of the men, here he's given the traditional hero role, and if his Gajodhar looks laboured chewing paan and being all bhaiyya -- since he isn't no Amitabh B -- things get even worse after he falls in love and tries to do a Raj -- and he most certainly ain't no Shah Rukh K. He tries really hard, but this has to rank up there with his worst ever performances.
Dharmendra has some embarrassingly awful lines, but nostalgia-tinted glasses ensure one looks upon the 75-year-old kindly, even when he's boasting about his ability to break wind. Looking at the man is unnerving, however, India's best looking leading man of all time now reduced to a jurassic caricature, an exhausted lion with very creepy teeth.
The supporting cast is made up of a bunch of familiar faces, helped along by the pleasant Kulraj Randhawa as the leading lady and Mukul Dev as a drunken boor who is oddly laconic. To be fair, the film's second half does rustle up a few scenes of momentum, but this is a nearly three-hour film and we all deserve better. As do the Deols.
Rediff Rating: