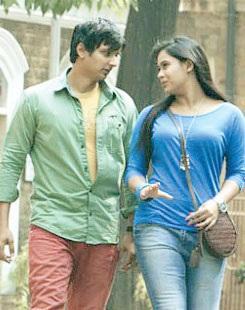 Cinematographer Ravi K Chandran's Yaan is a long, tedious and completely over-the-top action drama of a fun- loving unemployed youngster, whose life turns upside down when he sets out to prove himself for his love, says S Saraswathi.
In a career spanning 20 years, cinematographer Ravi K Chandran has created magic behind the camera.
Working in a wide array of films, both Hindi and Tamil, with eminent directors such as Mani Ratnam, Shankar, Sanjay Leela Bansali and Murugadoss, this acclaimed lensman boasts an impressive body of work – Kannathil Muthamittal, Ghajini, Dil Chahta Hai and Black, to name a few.
Unfortunately, his skill as a director leaves much to be desired.
His directorial debut, Yaan, starring Jiiva and Thulasi Nair hit the screen this long Dussehra weekend.
The film opens on a totally bizarre note and just seems to go downhill from there.
An 'encounter' is planned by Assistant Commissioner of Police Anwar (Jayaprakash) to kill international terrorist, Malik (Nawab Shah).
Things go wrong and violence erupts in the middle of the street. Bullets fly, windows shatter and people collapse in the gun battle that breaks out.
Amidst all this pandemonium that is accompanied by loud, pulsating and unoriginal music by Harris Jayaraj, we are introduced to Chandru (Jiiva) and Srila (Thulasi Nair).
For Chandru, it is love at first sight as he effortlessly dodges raining bullets to escort Srila to safety.
Though ludicrous, the scene has been impressively shot and cameraman Manush Nandan deserves credit. Not just for this scene, but the entire film.
Every frame is stunning, be it the rich and colourful first half, or the stark desert backdrop in the second, and even the spectacular song picturisations in exotic locations.
But despite Chandru's heroics, Srila is not impressed. Poor Chandru has to continue with his tomfoolery to woo her.
This is perhaps to provide some humour to the film, but it makes one cringe and pity Jiiva.
Not surprising then that Srila's father (Nassar), an ex-army officer, calls Chandru an unemployed loafer and refuses to give the couple his blessings.
After cursing all the women who fall in love with good-for-nothing guys but prefer to marry the well-settled ones who can keep them in luxury, Chandru decides to prove himself.
He accepts work in a foreign country, but the minute he lands at the airport he is arrested for possession of drugs. This marks the end of the first half.
After the interval, things only get more fantastical and tedious.
Nassar, Jayaprakash, Karunakaran, and Thambi Ramaiah are wasted in miniscule roles.
The sweet and endearing Thulasi Nair of Kadal fame is barely recognisable. She looks plump and mature, and there is barely any chemistry between the two.
Jiiva too disappoints. Neither the light-hearted approach in the early part of the film, nor the more serious note later, does him credit.
The film seems incredibly long. Sreekar Prasad could have done away with a good chunk of the film. Even the climax seems to go on forever.
Aside from the exceptional camera work, there is nothing remarkable about noted cinematographer Ravi Chandran's Yaan.
Rediff Rating: