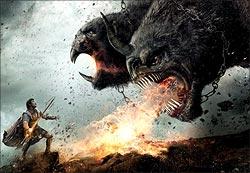 Wrath of the Titans' biggest flaw is that it fails to bring out the heroic values of the Greek mythology it so proudly rests itself on, writes Shaikh Ayaz.

This could very well have been
Mahabharata,
of titanic proportions with added bonus features of 3-D and latest SFX. As utterly cheerless as its predecessor,
Clash of the Titans
, Jonathan Liebesman's
Wrath of the Titans
takes the same mythic Greek heroes by the dozen, six-limbed monsters, ravaging beasts  and more such sword-wielding creatures, and installs them into a long-drawn, so-called divine battle for control and supremacy. This is being done, apparently, for the benefit of humanity.
For the nonaligned, the first film ended with Perseus (Sam Worthington) being told by his father Zeus (Liam Neeson) that he "may not want to be a God but after a feat like yours, men will worship you. Be good to them. Be better than we were."
Perseus, a demigod born of a human mother, has retired to a quiet life with his son Helius. Here, in
Wrath of the Titans
, his services is called upon. His task is not only to free Zeus from the captors, Hades (Ralph Fiennes) and Ares (Édgar Ramírez) but also trump out Kronos, the evil Titan and castrator of his own father,
Uranus.  As it turns out, Perseus isn't alone in this journey to Tartarus -- Princess Andromeda (Rosamund Pike) and demigod Agenor (Toby Kebbell) join him for support.
Unlike the first film,
Wrath of the Titans
doesn't seem to be peopled with far too many characters but it is still quite a mental challenge to keep track of what's happening to whom. The biggest flaw is that it fails to bring out the heroic values of the Greek mythology this film so proudly rests itself on. The patriarchal power politics, which could have served as a springboard for unbridled finalities, devolves into a poor child's game without losing any time.
The screenwriting, the situations and dialogue, in particular, are treated as if with contempt; and certainly, more time and thought seems have been invested into action, special effects and sound, which, frankly, are not so bad. The acting is, as always, a cross between Greek tragedies enacted for theatre and amateur school plays.
So, what is left, you may ask. Action and special effects is central to a film like
Wrath of the Titans
and if you find joy in purely that, you might -- barely -- respond to the calls of this movie. To most viewers,
Wrath of the Titans
will appear lousy and painful. Like it did to me. 
Rediff Rating: