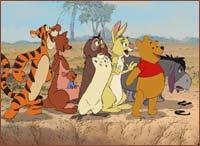 Sukanya Verma feels Winnie the Pooh has a lot of old-fashioned heart. A must watch. Post YOUR reviews here!

This may come as a surprise, kids, but there's a lot more to Pooh and gang than shrewd toy stores will tell you.

Long before Disney capitalised on the silly ol' bear with 'very little brain' and a rather cute paunch to produce hot-selling merchandise or amusement park attractions, Winnie the Pooh & Co, namely, Eeyore, Piglet, Tigger, Rabbit, Owl, Gopher, Kanga and Roo inhabited a young boy named Christopher Robin's childhood that became accessible after the lad's father published their stories in print.

While your mommies and daddies order the books on Flipkart, here's the lowdown on Disney's latest adaptation of English author A A Milne's vibrant adventures about a honey-obsessed bear and his colourful set of buddies, marking a return to innocence in, both, topic and technique.

Hopefully, the allure of meticulous, hand-drawn animation isn't lost on an audience better acquainted with 3-D feasts like Toy Story, Shrek and Kung Fu Panda given that personal touch, above all else, underscores the exclusivity of this project.

It's not our first trip to Hundred Acre Wood, of course. Previously in 1977, Disney painted an enchanting portrait of these beloved characters in the well-received The Many Adventures of Winnie the Pooh, followed by a memorable and extensive television series.

Still it cannot be denied that the franchise has suffered from ample wear-and-tear since its subsequent charmless rehashes and spin-offs.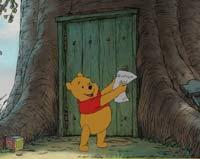 Now, in its all new, improved 2D skin, directed by Stephen J Anderson and Don Hall, Winnie the Pooh strives to achieve the credibility of the first-ever Pooh picture by staying true to the ethics of its original. And succeeds.

It may have been a while since your last trip yet nothing's really changed in Pooh's topsy-turvy world barring the omission of Gopher.

As always, the bumbling bear in (the ever reliable Jim Cummings providing Pooh with his gruff baritone  and humouring soul as well as Tigger's trademark bounciness) seeks to pacify the 'rumbly in his tumbly' by getting hold of his favourite snack, honey. This enduring fascination with the sweet 'n' sticky is celebrated through the ditty, Everything Is Honey, a lovingly-crafted confection that could put the likes of Willy Wonka to shame.

Lending added sweetness to the soundtrack, is Zooey Deschanel, the quirky leading lady of (500) Days of Summer, as the star voice behind the classic theme song among others.

The makers pick a bunch (not the best) of stories off Milne's books and weave them together into a linear plot, deftly narrated by John Cleese, circling around Pooh's pursuit for honey, Eeyore's missing tail and Christopher Robin's misread note. The last bit is used imaginatively to conjure an amusing play of text in animation that steadily blends with the soft palette of a gorgeously detailed backdrop.

Ultimately, it's the multitude of idiosyncrasies displayed by these vivacious anthropomorphic icons and their mesmerising human voices that endear us to this not-at-all-too-long (barely 70 minutes) caper's purpose or plot.

Be it Eeyore's unwavering glumness (Bud Luckey), Rabbit's crafty highhandedness (Tom Kenny), Tigger's buoyancy, Piglet's timid disposition (Travis Oates), Owl's pseudo reserve (Craig Ferguson), Kanga's maternal instincts (Kristen Anderson-Lopez), Roo's constant curiosity (Wyatt Dean Hall), Pooh's comical blunders or their collective hero, Christopher Robin's (Jack Boulter) attachment to each that, despite obvious differences, binds these friends together.

Call it a lesson in friendship or a trip down memory lane, Winnie the Pooh is a humble reminder of simpler times where every selfless act is rewarded with a giant pot of honey. In other words, sure, nag your folks for the uber cool Captain America but be sure to grab a piece of Pooh. This bear's got heart.
Rediff Rating: