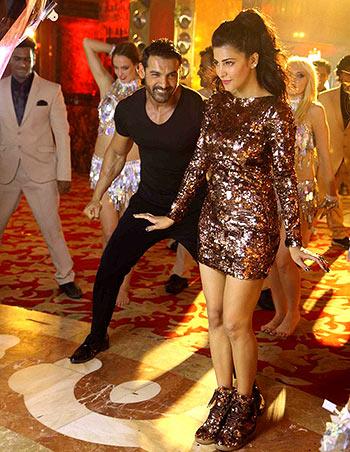 The Welcome Back soundtrack keeps the fun element intact, says Aelina Kapoor.
Welcome had quite a few chartbusters when it released in 2007. Its sequel Welcome Back has some entertaining tracks as well.
It starts with Meet Bros Anjjan's Tutti Bole Wedding Di, which is in continuation to Bollywood's long list of wedding songs.
As composers as well as singers, Meet Bros Anjjan keep the pace on for this lively number. Shipra Goyal joins them behind the mike as well. A fast-paced number that has good chorus support from Ambresh, Ved, Ashish, Ruchir and Bipin, this Kumaar written number is rightly placed at the very beginning as it sets the tone for what would follow next.
Anu Malik joins the party and comes up with a new version of his own chartbuster number Tinku Kiya (Yamla Pagla Deewana).
A raunchy number with singer Mamta Sharma roped in, 20-20 is a mischievous number written by Manoj Muntashir and Shabbir Ahmed. Anu Malik and Shadaab lend their vocals too. The song totally alienates the family audiences that may venture in for Welcome Back.
Music Mg.. [Milind Gaba] makes an impact with his own take on the Welcome Back title track.
As lyricist as well as composer/singer (while being joined by Mika Singh), he comes up with a super exciting title song that should make for a good music video, since the entire cast comes together.
He is joined well by newcomer Geeta Jhala, who makes a stunning debut with her husky voice.
The song rightly gas a 'remix version.'
The 'masti' element returns with another newcomer composer Siddhant Madhav, and doing a better job than what he did in the 2012 film, Jeena Hai Toh Thok Daal. Along with Pawni A Pandey and Hyasinth D'Souza, he delivers Meet Me Daily Baby, which has Anil Kapoor and Nana Patekar wooing the new entrant on the scene, Ankita Srivastava.
Arafat Mehmood's lyrics are aimed at the gentry and though the song also arrives in a 'remix version' with Harshit Saxena replacing Siddhant as a singer, the outcome isn't much different.
In Nitin Raikwar-written Time Lagaye Kaiko, John Abraham arrives on the scene as a singer. Anmol Malik does a much better job as John's singing partner.
Meet Bros Anjjan and Kumaar do an Aanand Raaj Aanand with Nas Nas Mein. This is a kind of number that Aanand Raaj Aanand delivers every year. Meet Bros Anjjan ropes in Shabab Sabri, Rani Hazarika and Deane Sequiera as the singers. An old fashioned number that is very 1980s in its appeal, it is forgettable.
Damaa Dam Mast Kalandar is heard all over again in Welcome Back as well and it is soothing as ever. It would be interesting to see how this Mika Singh composed song fits into the narrative of Welcome Back. Even Yo Yo Honey Singh makes an appearance as a co-composer and singer but fortunately the space of song doesn't allow him to get into his 'sharaab' and 'shabaab' space.
Last to arrive is the theme song Welcome Back which is in an altogether different space when compared to the title song and its remix version. This one has a jazzy feel to it, what with Abhishek Ray bringing in a classy feel to the massy album with his composition and singing (along with newcomer Manvendra). It is very different from the rest of the soundtrack.
Welcome Back soundtrack will keep the fun element intact.
Rediff Rating: