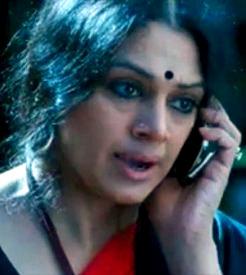 Malayalam film Thira fails to live up to Shibhana's standard, says Paresh C Palicha.

Shobana is both an actor and a star. She can pull crowds to the theatre, give depth to the characters she plays and make viewers root for her.

Director Vineeth Sreenivasan tries to cash in on this quality of hers in Thira.

She plays Rohini Pranab, a reputed cardiologist who also runs a shelter for young women she has rescued from trafficking rackets.

Her journalist husband, Pranab (Ray) has died in police custody a fortnight ago under suspicious circumstances. He had been charged with paedophilia.

It's up to Rohini to clear his name and crack the conspiracy behind the killing. To make matters more interesting, she has the company of Naveen (Dhyaan Sreenivasan) whose sister is kidnapped in front of his eyes.

The
screenplay by Rakesh Mantodi takes a heavy subject like human trafficking and the conspiracies behind it involving the high and mighty.
But it fails to involve the viewer and make him/her feel strongly about the subject, and banks heavily on Shobhana's charisma.
Shobana as the self-confident Rohini holds our attention. Dhyaan Sreenivasan is a foil for Rohini. He is a vulnerable boy, afflicted with asthma, but has the additional responsibility of doing the action
sequences that the sari-clad Rohini cannot do.
There are a few supporting characters but they don't get much attention in the story. The villain of the film does not have a human face as it is the system that the heroine is fighting against.
Thira
was marketed as Shobana's comeback film. She has a central role, but the film fails to do adequate justice to a performer of her calibre.
Rediff Rating: