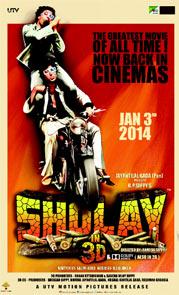 The 3D version of Sholay is tedious and feels like a classic novel being turned into a children's pop-up book. But Raja Sen recommends this cult classic for a taste of how good the Indian entertainer can truly be.
Who dareth review Sholay?
Sholay, that one Hindi film each and every one of us looks up to.
Sholay, the film that casts a shadow that envelops filmmakers, academics, fans and leaves them awestruck.
Sholay, the film we love and revere in equal measure.
The Sholay which belongs to us and the Sholay we belong to.
It would show hubris to talk about Sholay as a film here, dismissing it in a few lines or trying to boil it down into review form.
You know Sholay. You do.
Even if you don't remember every scene, or the name of every character, or even if you can't remember when you last watched the whole thing in one viewing.
You know Sholay.
It is a part of pop culture in a way very few films can ever be. It is, as the much-abused term goes, genuinely larger-than-life.
And now it comes to us in 3D. Oo-er.
The prospect appears a dodgy one, largely because 3D conversion is a pretty rummy operation at the best of times, and 80 percent of the films that are accompanied by 3D glasses work far better without them.
This re-release -- 39 years after the original -- is then nothing but gimmick. Should you still go watch it? Sure, because it's still Sholay. And you know Sholay.
The digital restoration is what one must pay attention to, and the film has been spiffied up rather well. The frames look clean and rich -- albeit a trifle over-saturated. But it does seem worth it to see those vistas, those close-ups, those expressions, those teeth more clearly than most of us have ever had the chance to.
The 3D itself is tedious, like a classic novel being turned into a children's pop-up book. A couple of scenes look decent, sure, but overall this is a film that is infinitely improved by taking off the glasses and watching it commando.
What is a blast, though, is hearing those dialogues echo around a theatre as we sit back and mouth them in unison along with the characters.
Sholay isn't just familiar, it is family. It is a part of the Indian motion picture experience that can't be matched, and getting another chance to watch it on the big screen is something special, even though the screen isn't as big as it once was.
What would be truly, truly grand would be a 70mm re-release celebrating this cinematic giant.
Watch Sholay for a taste of how good the Indian entertainer can truly be, and revel in the magic you already know. But don't 3D it.
Rediff Rating: