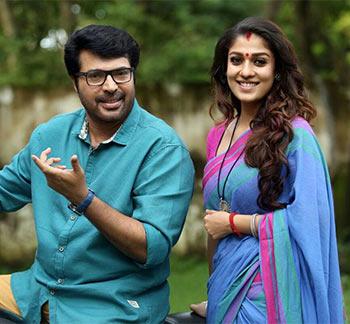 This film is Mommootty's version of Drishyam, feels Paresh C Palicha.
There is always a buzz when Mammootty appears in a lawyer's garb, as he was trained to be one in real life. He plays one in his new film, Puthiya Niyamam, written and directed by A K Saajan.
The actor has hoodwinked his fans many times by doing everything else but wearing the black gown and arguing a case in the court. He does the same in this film too.
He is an advocate specialised in divorces yet he is more popular as a film critic, having a weekly show on a television channel.
He is even called a movie expert to the debates conducted on the news channels (how he acquired these skills is not mentioned).
So, here is our man Louis Pothan (Mammootty) who can crack a joke at any situation and can laugh at himself too. He even compares his wisecrack with actor Sreenivasan's!
He is married to Vasuki Iyer (Nayanthara), a rare breed of female Kathakali artist. Theirs is an inter-religious marriage and they have been shunned by their respective families. They have a daughter named Chintha (Baby Ananya).
We soon realise that Vasuki's nature is exactly opposite her husband's; she is always brooding, agitated and paranoid. She blasts the caretaker of Chintha's school bus for touching her the wrong way and makes Louis buy a new car just to drop and pick up Chintha from school. We are also given to understand that the changes in her nature are recent and that she was also a fun loving and jovial lady once.
Post interval, the real reason for our lady's change of heart is revealed. She had been a victim of a gruesome gang rape at the hands of drugged youngsters.
The film goes on show how this housewife wrecks revenge on the perpetrators of the heinous crime with the help of the newly appointed Commissioner of Police (Sheelu Abraham, who looks and acts as if she is a wannabe Lena), a staunch feminist, who goes to town claiming that she would wipe out drug addicts and other criminals from the face of the city. She even gets an exclusive phone connection to be in touch with Vasuki until she accomplishes her mission.
You may think that this is a strong feminist story but an elaborate epilogue makes it into a hero-centric affair. We dare say that this film is Mommootty's version of Drishyam and he even claims in the end that his family's well being is paramount to him and it is even above the respect for the constitution of this country (haven't you heard this before?).
It is yet to be seen whether the family audience will fancy Puthiya Niyamam like they did Drishyam. Yet it is worth a watch for the performance of the leading lady Nayanthara.
Rediff Rating: