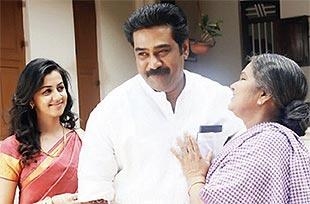 Biju Menon excels while Aju Varghese provides ample support in Vellimoonga, writes Paresh C Palicha.
Biju Menon survived on the fringes of Malayalam cinema doing second lead or negative roles in superstar films until directors discovered he had a flair for comedy. After that, he has been given equal billing with the hero.
Cameraman-turned-director Jibu Jacob has cast him as the central character in his film Vellimoonga.
Biju Menon plays Mamachan, a politician who is not power hungry, but more of a self-serving middleman who gains while other people work hard.
Mamachan detested politics as a youngster because his father, who was an honest politician, lost everything he owned by serving the people and left his family in debt.
His son though realises in time the power he can wield by wearing the garb of a politician. So, he intelligently gets involved in the bi-polar politics of the state and becomes a member of a nondescript party of North India.
He has not even contested a panchayat election, yet proves himself to be powerful as he has connections in New Delhi and pulls strings to get local work done.
He has a sidekick in the form of Aju Varghese and the opponents are Tini Tom and his gang.
The film is not just a political satire since it takes a romantic turn. Mamachan is in his early 40s and is still a bachelor, desperate to get married. In his youth he had been too preoccupied with bringing his family out of the debt trap that was left by his father, to bother about romance.
Now, though, he falls for Lisa, a girl much younger than him. When he goes to her parents with the proposal, he discovers that her mother (Lena) was his childhood friend and her father Vareed (Siddique) was his childhood foe!
The rest of the film is devoted to how he wins over Lisa's parents and makes a mark for himself in politics.
The script by Joji Thomas does not dwell on anything with seriousness; it just breezes through the events making a humorous comment here and there on politics and domestic issues.
Biju Menon excels - the role could be tailor-made for him. Aju Varghese provides ample support and leaves his mark on a few scenes.
Nikki Galrani, who plays Lisa, just has to sashay across the screen in slow motion most of the time, and she does it well.
Tini Tom appears in a serious role for a change and strokes his beard before uttering any dialogue to convey his seriousness.
Rediff Rating: