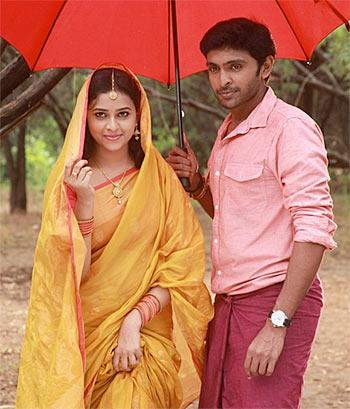 Tamil film Vellaikaara Durai 's story is let down by an aimless screenplay with tedious characters and average music, writes S Saraswathi
It has been a great year for actor Vikram Prabhu.

Both his previous films -- Arima Nambi and Sigaram Thodu -- that released earlier this year, did well at the box office.
His latest venture titled Vellaikaara Durai is a romantic comedy directed by Ezhil.

Sri Divya of Varuthapadatha Valibar Sangam fame plays the female lead, with Soori, John Vijay and Singampuli in significant roles.
Set against a rural backdrop, the film is a funny take on the dangers of borrowing from a loan shark.

Police Pandi (Soori) and his friend Murugan (Vikram Prabhu) have just got into the real estate business.

They invest in a property worth Rs 15 lakh with the money borrowed from a dangerous loan shark Vatti Varadhan (John Vijay).
Unfortunately for them, the land turns out to be the local burial ground.

No one is interested in purchasing it. Pandi and Murugan are terrified of Vardhan, who is known to kidnap loan defaulters and keep them as slaves at his estate.

Since they have no other means to pay off the debt, they too are locked up at the estate to do menial jobs.
Also at the estate is Yamuna (Sri Divya). She is treated like royalty by everyone and Murugan assumes that she is Varadhan's sister.
He falls deeply in love with her, little knowing that she is soon going to wed Varadhan. The first half of the film ends with their engagement.
Murugan is stunned. Post interval, we learn of Yamuna's reasons for agreeing to marry Varadhan.
The film meanders along at its own pace, with plenty of songs thrown in at regular intervals.
The director seems to have made up the story as he went along, with no thought to a coherent plot.
There is little in the film to keep you engaged. But the director does score on the comic elements. The dependable Soori is hilarious and manages to evoke plenty of laughter with his antics.
Vikram too has given a decent performance, perfectly at ease with romance and comedy and excellent in action sequences.
John Vijay as a menacing villain with humorous undertones has become too repetitive and unimaginative.
The young Sri Divya with her colourful designer half sarees looks extremely pretty, but her character has no substance and she appears totally clueless about happenings around her.
The music by D Imman is average. The songs though are colourful and well picturised. The director's previous film, Desingu Raja too was a rural-based romantic comedy that failed to work.
The year would have ended on a high note for Vikram Prabhu had he scored a hat-trick. But the film barely makes an impression. The story is let down by an aimless screenplay with tedious characters and average music.
There is nothing worth remembering in director Ezhil's Vellaikaara Durai.

Rediff Rating: