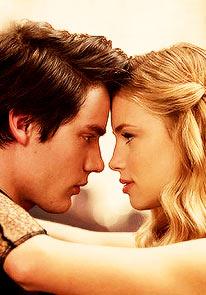 Vampire Academy falls flat on its face, says Paloma Sharma.

If one had to summarise Vampire Academy in one word, it would be, without a doubt, awkward.
However, if one were allowed to use more than just one word, the list would include these:
The Twilight Saga
Vampire Diaries
Harry Potter
Random Enid Blyton boarding school story
Mean Girls
Student of the Year
Anything written by Nicholas Sparks
The Princess Diaries
Carrie
Every Mills and Boon ever written
Yaariyan
Vampire Academy does what most vampire film-based-on-a-book do -- it makes a mess of things.
The Moroi princess Vasilisa 'Lissa' Dragomir (Lucy Fry) and her dhampir, i.e. half vampire, guardian Rosemarie Hathaway, run away from St Vladimir's, a Hogwarts-meets-Big Brother high school for vampire kids because they believe that Lissa's life is in danger.
Two years later, they are hunted down and dragged back to school. Despite the passage of time, the ghosts of past trauma are still alive. Will Rose be able to protect her best friend from the rising darkness?
Vampire Academy takes place in a universe where previous high school romances were born -- a paedophile's paradise with schoolgirls in miniskirts, showing ample cleavage.
Add to it a tall, pretty Russian dhampir along with a few Robert Pattinson lookalikes strewn about in the film, and you have the formula for feeding the ever-present craze for the un-dead.
Where vampires were once soulless bloodsuckers, they've now transformed into supermodel-ish youngsters who spend most of their time snogging. Oh, and get this, vampire kids go to church for mass every Sunday
A real piece of art, Vampire Academy boasts of an entire cast of forgettable actors. Even the occasionally funny moments fall flat when delivered by people who are either trying too hard or not trying at all.
The cast of Vampire Academy could've easily been replaced by that of Yaariyaan, Sixteen or any Karan Johar film. All that's keeping Vampire Academy from being a full-blown YRF film is the missing Swiss locations.
The film ends up looking like a sloppily put together mash-up of almost all tween pop culture reference from films.

Rediff Rating: